My American Family
February 9, 2022
We have been in our car for four hours, the last half hour of which my youngest brother has been screaming. We have one destination, and we can't find it. This is supposed to be my vacation. Instead of picking a staycation, like most people during the Covid pandemic, my 8 family members decided to go all out. So, we went on a road trip from Hampton, Georgia to Massanutten, Virginia, and the Shenandoah Valley. This crazy family is my miniature America.
As our family drove up a dirt road, unsure of where our condo happened to be, we had to pull together perusing maps, or any clues that could lead us to our destination.
"Are we there yet?" my brother Caleb yelled over the twentieth verse of 'Old Macdonald' and a screaming baby.
"We'll get there when we get there!" my father growled. Putting our heads together, and fighting back our hunger, we finally realized that the place to check-in was probably the first building that we saw and not the little cottage we just passed. When we finally parked and entered the lodge, ready to receive our key to warm beds and a hot meal, we were given number 769 in line and told to twiddle our thumbs until we were called. Back to waiting. "Old Macdonald had a narwhal..."
After a day of recovery in our newly won condo, my father was introduced to a deal that was too good to be true. Eat a complimentary breakfast in a demo timeshare and get $200 credit to spend at the resort. What could go wrong? Everything, it seemed. It began when our whole family piled into our large white van, the Castile Mobile, without breakfast but very ready to eat. However, we were not met by a steaming breakfast as we hoped but by a charming salesman who proceeded to tour us around the entire Massanutten Resort. It turned out to be a real mass o' nuttin' unless you had a mass o' money. After visiting various places including an ancient condo at a "great price," (only 60000 a year!) we were herded into a compact condo where we would finally eat around a four-person table and a couch and a fireplace and a loveseat and a borrowed chair from the adjacent condo. The salesman tried to get to know us as we stuffed ourselves so he could sell us either a condo that would not fit half our family or a condo that had not been updated since the '60s. This, of course, did not end well. We had no interest in his life story or his manager's life story. My dad was stubborn in his belief that we were going to eat a free breakfast even if it was 11:00 in the morning.
Massanutten having nothing except a lonely salesman, was two hours away from Washington D.C., and my parents were not going to pass up this opportunity for my family. Thanks to Covid, every educational venue was either closed or booked weeks ahead of time. So, we went to the zoo because we had nothing else that seemed friendly to a family of nine. It was sprinkling, but we were going to make it work. I did not have a rain jacket, so we found a dirt-coated poncho for myself and raincoats for everyone else. Being a big family, we survive outings with the buddy system. Younger ones hold the hands of the older ones. Despite my attire, I was given the responsibility of being a hand holder or a stroller pusher, a job my younger brothers and sisters could not handle. Seeing the smiles and hearing the laughter of my younger siblings at the antics of the animals, I forgave them for screaming in the car.
This journey took place in America, and in a way, it also was America. We pull together in the face of difficulty. We emerge stronger from our shared experience. We gain freedom by correctly using the privileges we have. My family is wild and so is this country, but I still love them no matter what their decisions might be.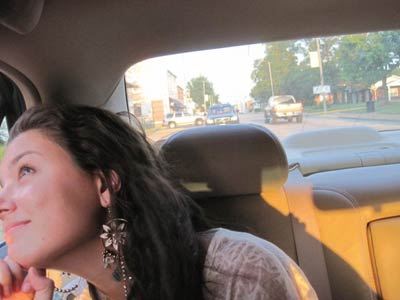 © Rachel N., Ballwin, MO