They're Real to Me
October 26, 2020
Nights where the adjacent room is filled with shouting that only seemed to grow worse by the second. It was drowned out by Seven, covering my ears. I was sure his hands were soundproof as those fierce shouts grew quiet. Once completely gone, he would do the same toothy smile that would make me feel secure. Grab my hand, whisking me far away.
Throughout the walk he would ask me what was the issue this time. The voices that battled back and forth everyday were discussing money, as always. Seven would not say much during my story. Only when I grew as quiet as a mouse, would his voice rise. His advice was simple but sweet.
He would jokingly offer his help saying he could hack into a bank, giving me all the money I desired. After some teasing he would get serious. He suggested I take looking for a job more seriously. His tone would lower when he would suggest me officially working for my parents. That was the worst case scenario.
He advised that I finally put aside my uneasiness and talk directly to my parents about this issue. My parents were reasonable but whenever they made up their mind, it was practically law. He explained that the guilt I feel, wouldn't go away until we, as a family, all made sacrifices.
All he wanted was to see me living happily. For some reason, he always knew just what to say. He was so much more than just a good dream. No matter the cause of my distress, he always had something to say that would lift my spirits. His solutions always had risks but I always was willing to take them.
Our night together ended sooner than I would have liked. Saying goodbye to someone I could never see in my world was tough. He squeezed my hands tightly wishing me safe travels and begging me to allow me to see him again. He didn't even need to ask.
My eyes slowly fluttered open to the intense sun peering out of my sheer curtains. I felt warm tears trickle down my face. I didn't want to say goodbye but Seven isn't real anywhere else beside my dreams.
He was right after all. This type of ordeal needed to be solved. Money was the issue but they knew I needed all my attention focused on school. Ever since my mom decided to open her own shop, money was tight. Every summer I would help out dad with the secretary stuff but it wasn't enough. They needed more and as much as I hated the thought of it, I could no longer just sit by and watch as the security of this family got tainted because of something so benign as money.
The talk with my parents that evening was tense. They didn't like the idea of me sacrificing my school life for the sake of our family. I started to feel helpless and almost give in. I felt like my options were limited and that I would just be a burden if I started to help in my parent's businesses.
"Make sacrifices as a family." His words shook my core and I felt an explosion of energy. I put my foot down, promising I would try everything I could to help out my family. I promised to try to keep up with school work. I felt like I threw up those promises into the unknown. Their faces were wary and I could sense that I caused tension in the room. I was tired of choking back my thoughts upon this subject because I couldn't sit back anymore and watch as my family suffered. We suffered together or not at all.
That night, only one of my thoughts occupied the tranquility in the house. I only wished to see Seven and tell him the great news.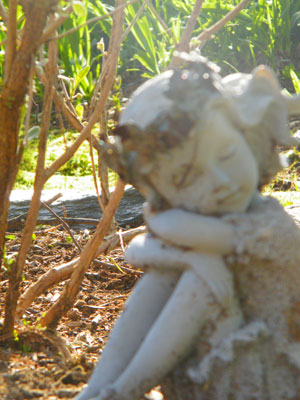 © Lucy T., Philadelphia, PA