Mother's Day
MAG
February 28, 2019
When walking into a Mormon church, a few things catch your eye. Pictures of Jesus's life line the walls, some portray painted faces of children kneeling at his feet, while others display detailed visions of baptisms in ancient America. Bright lighting magnifies bleach white walls, vacant and empty in all spaces unless graced by a painting. I squint at the blinding light. While my maroon heels cross the doorway, I force myself to continue with a clipped stride. The past eight years I have been alone on Mother's Day, unable to celebrate with the mom that cancer took from me.
Sometimes the worst things come out of nowhere, they're unexpected. When my mother was diagnosed with cancer, nobody expected a kind, loving, young woman to lose her battle with this aggressive illness. As a nine-year-old, adjusting to such a change was difficult. Losing my mom was difficult.
The past eight years have been years of recovery, years of work, years of struggle, and years of growth. My dad chose to remarry a woman who brought two new children into the picture, and my stepmother quickly became the matriarch of our growing household. I saw my little brother and sisters as my responsibility; handing them over to someone new was tough. Eventually my mother became known to my siblings as "Becky," and my stepmother took on the role of "Mom." Letting go of the pressure I had placed on my shoulders was difficult. The pressure morphed into a guilt that slid off my shoulders and leached into my chest, feeding on my insecurities and worries, as I wondered where my family's life would go.
My mother was my best friend, and as I've learned, losing a best friend is something nobody fully recovers from. All the times that my mother and I went shopping, played with stuffed animals, or sewed in our cozy little nook under the stairs will never be resurrected. Instead, all that is left to do is keep those memories close. I hold my mother's positive spirit to my heart, the spirit that laughed through mind, numbing chemotherapy and brain surgery. I hold her bubbling laughter to my chest, the laughter that fills a room with her radiant glow, causing even the most solemn of nurses to crack a smile. I work as hard as I can to share all of her kindness, love, and selflessness through my own actions. I have given myself the new responsibility of ensuring that her memory and love for others will never fade; instead it lives through me.
I've learned that life moves unsteadily. We migrate from moments of intense sadness to those radiating love and comfort. Through the loss of my mother, I have learned to navigate the uncertainty of moving forward. I have developed empathy for others who may have experienced a loss similar to mine, and I have learned to see others as more than their face value. Although it is impossible to know what the future holds, I keep my strengths close, ready to wield against the possibility of an oncoming storm.
It's Mother's Day. Children snuggle up to their parents and are held tightly by the protective arms of their moms. I sit solemnly on a pew waiting for the bishop to speak, head bowed and eyes closed. I don't know what comes after this, but I know I'm ready.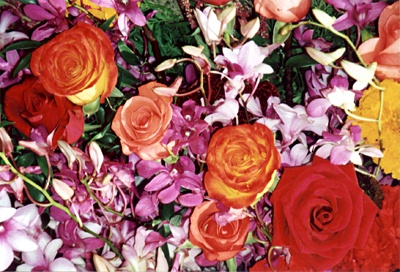 © Stacey L., New City, NY