On The Defense
January 28, 2019
My school held a discussion on race. I attended, just to listen. The goal was to keep an open mind in a discussion with diverse opinions; to avoid jumping into partisan boxes and collectively broaden our perspectives.
This is not what happened. In an hour-long discussion, the first fifty minutes were a full-on liberal echo chamber. (To clarify, I am a 100% undiluted liberal. I agreed with all the arguments voiced in those fifty minutes. But it was still an intelligence-draining, one-sided, tribalist echo chamber.)
But right at the end, a very conservative guy took the mic. He said some controversial things about the Black Lives Matter movement and the mainstream media. (This was especially incendiary because we live in Kirkwood, Missouri, near enough to Ferguson that the events which unfolded there strike a more personal chord in many of my classmates.)
The crowd booed, and over half of the audience walked out, despite an attempted intervention from our Social Justice club and the school administration. I stayed.
As I sat in the third row, whirling around to get a full view of my surroundings, I noticed that everyone was alike in a key way: We all felt vulnerable, we were all uncomfortable. It seemed the students walking out were predominantly terrified their peers would perceive them as racist, rather than genuinely enraged by the comments they had just heard. It seemed they glared at the seated students mainly to mask their own insecurities, not out of anger. The seated students shrunk in their chairs for the same reason. The administration and Social Justice club officials panicked over the divisive atmosphere they had produced, while the poor conservative guy rushed out, probably wondering how many of his friends he had just lost.
I realized that right now, in today's divided political and social climate, we're all vulnerable. People of the United States are always opposing one another. But we can't shut each other out, we can't immediately discredit everything we disagree with, we can't ignore the other half of our country anymore. I'm not just talking about left vs. right, though it does provide an excellent example. In any national issue, pitting ourselves against one another just rips our national community apart further.
I felt it in my predominantly conservative Boy Scout troop last year at a week-long campout, where an unironic chant of "Build That Wall," or an adult leader publicly joking about "killing off the Clinton bloodline" at a BSA event, feels commonplace and natural. It's not even aggressive, it's defensive. It's an attempt at feeling like you, the right-winger, are not alone, to feel correct. Just another echo chamber.
I'm not against extremes. In Loeffelholz's article, we are told we must "demand justice for ourselves," and that "those who have privilege and power must intervene for those without." We can't be wishy-washy. Decisiveness is necessary for change. But we should note that the decisiveness in Loeffelholz's piece is all in the defense of the community, our neighbors, our fellow Americans.
We have to protect ourselves from ourselves. Nobody else can do it for us. We're all in an awkward, vulnerable place right now. We need to band together. We need to listen to that conservative guy, understand him, and we need to understand what drives the audience to leave when they hear him.
We must get rid of the culture that allows us to vilify, and group, and mass-judge in any capacity. It only makes it easier for us to legislate divisive and discriminatory actions. Nidoto nai yoni.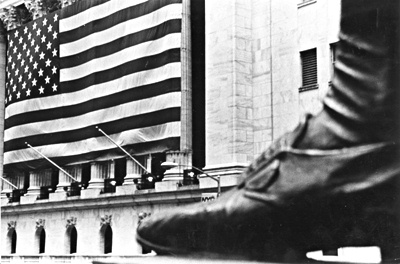 © Antoine B., New York, NY