The dream of Canadian fishing
October 24, 2018
As the sun emerges out of the low-lying-foggy clouds,
my biological alarm clock rings.

The brisk northern winds show the slight sight of steam off the lake—
making the lake look like a six by seventeen mile hot tub.
The ripples of water—
bring a feeling of vacation.

I cast out into the unknown. Our journey began—
perched on a boat, without another person in sight.
Bald eagles dot the surrounding area—
I see untouched nature. No signs of human intervention.
No houses, no piers, and not a single boat—
only in Ontario, Canada, do I experience this.

Relaxed…
yet adrenaline runs through my body.
I look at the nature of the surroundings—
astonished by the beauty of our Earth.

The lingering smell of campfire drifts over the lake—
in hopes of bringing home a day's catch.

With the sun setting over the lake—
I realized I have lost track of time.
The beautiful day in Canada ends—
and now I must prepare for the next…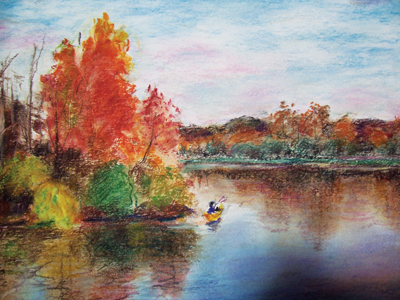 © Xiao H., Naperville, IL