Blinking by Spring Break
October 11, 2018
My breathing starts to quicken as my entire body freezes. I am drowning, but I am not in water. My week was over, everything was done and all I had left was what I brought home, like the Starbucks cup I use everyday. I would give anything to go back and do it again exactly the same way. It was like hitting rock bottom after flying for the first time. I could still smell the fresh Florida breeze mixed with the sounds of laughter with the biggest smile on my face and everyone else's around me. The happiest place on earth. The feeling of never wanting to be anywhere else filed my body combined with the amount of freedom I had was a toxic couple. Just right then my heart emptied as I stepped off the bus to be met with rigid cold air and a bland High School staring back at me.
That Sunday morning when we arrived at Bedford High School was the most sleepless and excited I have ever been. I could barely sleep the night before. My entire body was ecstatic to be finally getting to do something I had worked so hard for. I had raised half of the money and was finally getting to go on my trip. Disney World, The happiest place on earth. I walked in dragging my suitcase behind me, it was slowing me down but nothing could drag me down today. Everything we had planned and done to get here was finally happening. I looked back to yell at my parents to hurry up because they were dragging their feet. My mom smiled back at me as she told me to go on, they would catch up. I raced towards the doors to be met with a huge line of people waiting to get their bag checked. I swallowed hard and got in line behind some people I did not at that point know the name of.
As goodbyes leave my mouth I can see my mom looking at me. She looked scared to let go and trust in someone else to make sure I am okay. She was sad that she could not have afforded to send us both on this trip together. My mom gave me a smile and waved goodbye as she held my dads hand. My little brother urging her to say, let's go, but her glance not leaving me until I took that first step on the bus. "I will call you every night," I yell behind me as I boarded the bus with all my friends. It was an unrealistic promise but I would still text her whenever I missed her and call her when I really needed someone to listen, I mean, it was only a week though. When we finally started to leave the first fifteen minutes were this feeling of oh my god this is actually happening. This began the quickest eighteen hour bus ride I have ever taken, considering at this point it was the only one, too.
After several meal and bathroom stops we finally got within an hour of the parks. My entire body felt tired but my brain said wake up, wake up! When we saw the final sign with Mickey Mouse's bright smile, my own smile spread wide across my face as happiness filled my body. We have arrived. The Florida heat was intoxicating as every ray of vitamin D soaked into my pale skin. The people shuffled around to find their suitcases, it felt like we were the absolute last ones to get them out from under the bus. We looked around for Mrs. King or as she wanted us to call her, Mary. My entire body was filled with excitement of finally being there, being able to get off the bus for the first time after breakfast and being able to pee. Man I really should have went at breakfast, but I did not want to wait in the lines, especially after drinking an entire frozen coffee from Chick-fil-a. The smile on my face could never leave even if my bladder felt like it may explode into my abdomen. I looked around for my friends as my eyes met theirs I lit up.
Monday flew by as the Orchestra did not really have anything going on and it was the day we arrived in Florida. On the other hand Tuesday was one of my favorite days of the week. Unfortunately Madeline, one of my roommates, got food poisoning from the Italian restaurant we had eaten Lunch at the day before. She was unable to play with one of the disney performers. That day we had a clinic from around ten to two. This was an amazing experience considering we got to play actual Disney movie music, like the Darth Vader March from Star Wars. The music surrounded you and engulfed you like a water bed sucking you in. It was extremely loud and coming from every direction and the man who conducted us was shorter than me. He was one of the funniest people I have ever met. When he conducted he was as enthusiastic as when he played the trumpet and you could tell just from looking at him that he knew what he was talking about. He taught us how to be confident in what we play not just by sound but by look and feel of the music. From the first time we played it to the second or third we learned how to ace sight reading. He was one of the best people that I have ever seen teach. That day was one of the most orchestra inspiring moments of my life and it showed me why I started playing in the first place and why I felt insecure to play now.
When Wednesday came speeding around the corner we were halfway done with our week and it was starting to hit me hard. The fact that one of the best weeks of my life was going to come to an end in just three days. We were dressing up and getting ready for our performance in Disney Springs. Some of the boys had decided they were gonna go shopping and go and watch us play. When the bus arrived to pick us up we were all a bit jittery. I was standing in my long black dress sweating my butt off. It is like one thousand degrees in here, I thought to myself. We arrived at the practice stage and it was amazing bigger than most stages I have ever played on. The sound projected out of the room and all around us, it surrounded me, I was filled with enthusiasm to play on a huge stage in front of many people including my grandparents who I had not seen in four months.
When we arrived at Disney Springs in was like a hike to get to the stage. We had to walk through crowds carrying our instruments. At this moment I thanked god that I had decided not to play Cello or Bass. When the stage came in sight I could see people already sitting in the benches in front of the stage. We were directly in front of the Disney Store, it was humongous. My eyes met my grandmas as she rushed up to take my picture so she could post it. She has lost a lot of weight since the last time I saw her but she still looked like my grandma. She told me to look her and pose for a picture, I felt mildly embarrassed to do that in front of so many people. When I got to my seat I looked around me, there was a lake behind me which had a cooling breeze that came over us that felt amazing. People filled into seats as an announcer announced 'Please Welcome Bedford High School to the Stage'. The next thirty minutes was filled with music that was followed by applause and cheering.
The last day of our trip in Disney we went to Magic Kingdom again and shopped around before we had to go back to the hotel. The voices were buzzing around me as I walked into the starbucks on main street. The smell of rich dark roast coffee hit my nose as the air conditioning hit my body and it pulled me in. My friends followed me in and were talking about what they wanted. I looked behind me to see the Cinderella Castle in front as people filled the road. The boys follow us in as we pulled out our food cards and got in line. Drew talking about he never actually had a starbucks coffee. I looked over and saw the cutest cup. I was looking for the perfect souvenir and there it was. The smell engulfed me as I picked up the cup to buy, this was going to remind me of how I never wanted this trip to end. That night was just us girls until the boys were done in band. Madeline, Grace and I decided after the boys had to go get ready for band we were going to spend the day shopping and getting our souvenirs ready and our stuff packed because we had to leave early in the morning. When the band came marching into Main street it was the most amazing experience I have ever had. Every one of their faces was filled with joy and it filled with me with joy. We cheered and cheered until they marched beyond the gates.
The following day in Universal was a hard day. The fact that we had to come home had dawned on me and started to drag me down. Along with one of my roommates being bratty and the other all over a guy. It was a much harder day to handle. This as I reflect back was when the downward spiral of anxiety and depression hit me. After feeling so amazing for so long it became hard to breathe. When we got on the bus to come home I still told myself that I had another eighteen hours. Another few moments to just enjoy this before school again.
When we saw the the school insight, as the eighteen hours had flown by, the weight of one thousand years hit my body. I was excited to see my parents, brother and boyfriend again after being away for a little while. But being home and having to go back to life was the hardest thing I have had to do. My brain craved for the freedom of having no parents for those few days. The freedom to be myself in a new way. My body craved the heat for the upcoming months. The warmth of the sun but all I got was the cold Michigan air. Almost everything about coming home and doing the what used to be everyday things depressed me. Made me feel like I was drowning and could not breathe. Reflecting back on everything that took place is easy. The entire week was amazing but the whole week I was on edge and that lead to my break down, but all in all it is still a good memory and something I will remember forever even if it lead to something worse, but you can not base an experience like that on a few bad moments afterwards. The entire week flew by in an enchanting way in just a blink of the eye.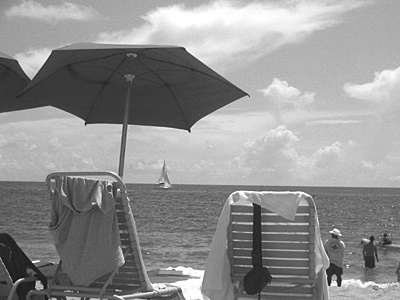 © Emily O., Boynton Beach, FL