What I Carry
October 11, 2018
My grandpa was the kind of guy who never wanted to stop laughing. Joke after joke, day after day, the stories he told would always be funny. Even when his hair started to gray and the skin on his face started to wrinkle, he was always smiling. Usually his attire would consist of a plaid shirt, blue jeans with the color fading, and a pair of old slippers. He would always be down on the boat dock watching the boats sail across the lake, or sitting in his chair, an old blue recliner, reading. He would light up as soon as he saw me, already thinking of some sort of joke or story to tell. I wish I could remember them all. When he wasn't quite so old, he liked to carve and paint amusing faces into stumps from old trees, I still have a few of them. There was never a dull or drab moment when he was there.
Years after my grandpa passed away, my mom called me into her room. She pulled out some type of clothing from the back of her closet, and I wondered why she called me in there. I had no idea that what she would tug out would mean so much to me. More and more of the item slowly came into view and I realized it was a large white t-shirt. I was confused for a second. Why would she want to give me an old shirt? With tear filled eyes, she explained the shirt once belonged to my grandpa. Memories of laughing and jokes filled my brain as I stared at the design on the front, a vehicle in fiery red and yellow flames; it was just like him to have a shirt like that. Something about this shirt felt special to me. All the reminiscent memories I stored in the back of my mind started to pour out.
A vision of my grandpa's content smile looking over the lake he once lived by appeared as I looked at the shirt longer. We were visiting my grandparents for the weekend. I remembered walking down the seemingly endless hill and sitting next to him on the wooden benches he made. Because the lake was visible from where we were at, it was tranquil to just sit together and watch the waves and boats. Every now and then a bird would fly over our heads and catch our attention. My grandpa would make up some witty name for the bird to make me laugh. We didn't have to talk to each other to know that this was a remarkable moment. I understood why he loved the lake so much, it's good to just sit down and observe once in a while. It's even better when I could do it with my grandpa.
Still looking at the shirt, a memory of myself sitting next to him, in the same chair, reading a spot the difference book together resurfaced. I could hear the buzzing of the old tv and the neighbor's dog, Otis, barking. Looking at the book, I struggled to find the obvious difference between the two pages. I had finally given up and asked my grandpa to point out what I was missing. It didn't take him long to find out the difference; he was always amazing at things like that. He chuckled and pointed to the trees in the background of the photos. We laughed at how evident the difference was, and how I couldn't find it. We would turn the page and start over, and I would try to find all the differences without any help. I couldn't stop thinking about the memories buried in my brain of the man I would call my very first best friend.
My mom started to talk again, in her hands she held the shirt. She asked if I would like to keep it, without hesitation I said yes. I never expected the shirt to cause so many repressed memories to unfold. I missed remembering how much I loved my grandpa, but it was too hard for me to cope with the memories, so I pushed them away. I hadn't thought of him for a while; it was a troublesome time for me to try not to. On the days I miss him the most, I wear the shirt. It's hard for me to be reminded of the memories of him because, there are no bad ones, and you can't miss bad memories. I don't think it's possible to fully get over the person you loved the most, but it helps to have something to keep you grounded.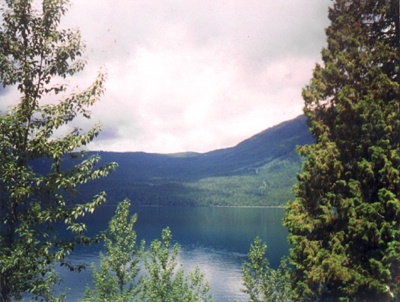 © Chelsie T., Phoenix, AZ