Don't Be Afraid to Make New Friends
April 25, 2017
I remember being on a blue swing when I was in second grade at school. I hadn't really made friends since I was the new girl. What I didn't know was that day would be special. It would be the start of a new friendship that would last years. I heard a boy say, "Hey." My eyes drifted up from the rocks, which had seemed very interesting a moment before.

I was probably the most anti-social kid in the whole district, especially since I had just come to this school two months earlier. Being the new kid at school is hard. First, you have to adjust to the new teachers. Usually schools have different ways of doing pretty much everything. Also, there are tons of new people. You have to make friends and get people to like you. It's all just really awkward.

So back on the swings, I just stared at him. He sat down in a swing next to mine. He was another new kid. I could tell we were going to be best friends.

I thought to myself: Is he really talking to me? I'm such a loser, though.

I sat there next to him and finally I spoke, "Hi."

One simple hey, changed my life and started a great friendship. This extraordinary friend taught me to not be afraid of making friends. He has also taught me what a real friendship is like. A real friendship is where you smile at just the thought of your friend. Where money doesn't buy you happiness. Yes, you will fight and you won't be perfect, but you know inside that they really are a great friend. I really miss it. More specifically him.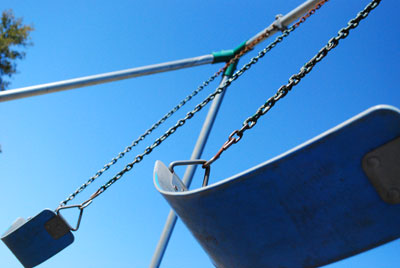 © Natalie R., Windermere, FL