THH: Threads of Hope
November 4, 2016
Please don't let me be cheesy, I thought. When I get older. Anything but cheesy. Ala Nova, you can't be another one of those cheesy writers.
Alas, I appear to have failed. I am well on my way to becoming the weird hippie composting aunt that I was meant to be.
It's more fun to be cheesy. I am a terrible pack rat. I keep everything, and I store everything, but I also try to keep everything organized, which has only led to a great deal of distress. By the time my family packed our bags last year to move across town, I was overwhelmed by all the stuff I had. It was alarming. I had an entire army of clothing tags and mismatched eraser ends, magazine shreds and Office Max clearance items. I decided then enough was enough. I would keep a tight, close circle of important possessions I would still be using in twenty years, and nothing more.
One thing that survived was a series of bracelets. I don't do bracelets. They drive me nuts. I wear a watch on my left arm, and sometimes hold it up to my ear during tests, just to hear the ticking. Granted, I also used to wear the silver bracelet on my right arm that my grandmother gave me when I was very young. But after the silver showed signs of strain, I took it off. I couldn't stand the idea of wearing it until it snapped. I didn't want to be there when it happened. Now it's tucked in the corner of my necklace box, snuggled next to the store of loose change my sister doesn't know about.
But I kept those bracelets. They accumulated like jewels in my closet, each tied to a specific moment in time. They don't have beads, or chunky metal parts. They're cloth and thread and weave, and come with a time, a place, a sensation. Now get ready for the cheese.
Three of them are like sisters. They're friendship bracelets, only I bought them myself, at a boutique in downtown from WAR Chest International. WAR stands for Women at Risk, a foundation that helps women support themselves by selling their handmade products. I can only look at them and drool. My bracelet-making skills stop at picking which color thread. Each bracelet comes from a woman who makes them in Philippines, and her project is called Threads of Hope.
They're darn pretty, thin, like a piece of cord, and wrap around the wrist handsomely. They stand for Kindness, Courage, and Strength.
They also represent my three years of high school. The first I got from a friend doing a charity fundraiser, light purple, scarlet, and gold. It represents Kindness, and the good and the bad bits from that year. I found out being nice isn't the same as kind. I smile when I get nervous, as a cover-up. If I didn't catch what someone said, I would tense up, worried that I wouldn't catch it again if I asked, nod and smile and then mm-hmm a bit. But being kind can take all forms.
The second bracelet I got directly from WAR Chest, heavy gold, with three sections of thin black and white stripes. It represents Courage. My sophomore year of high school was a hot, somewhat attractive mess. We moved that year across the same town, this time to an apartment. While it was exciting, almost enticingly new, the three of us, or my mom, my sister, and I had to rely on each other for everything. That in itself became an extraordinary test of faith. We were going through harsh times economically, and I was suddenly and completely crippled by fear and anger. Suddenly, all of my classmates, unaffected and thriving, appeared unbearably rich and privileged in my eyes.
The third bracelet starts at rock bottom, black, with four intermissions of green, gold, and red. It's my favorite so far. Junior year isn't over yet, so I shouldn't jinx it, but for now it stands for Strength. Strength, in endurance, and in the enduring choice to hope.
I try to wear one every day. The night before, humming tunelessly while the house sleeps, I pick one and set it on my dresser for the next morning. I usually wear one, maybe two. Sometimes I call on all three.
I started thinking about the fourth one, as a senior next year. I thought of Flight. After all, my school is aggressively patriotic, and being a Redhawk, the school mascot, is not taken lightly. Every darn person is a Redhawk and everybody wears red on Friday. Dealing with crowds during pep assemblies is called "parting the Red Sea," and we have one angry bird on all our spiritwear. Goodness. I'm wearing a Redhawk shirt now. 
Of course, things might change. I have a year to go. I might decide all this cheese isn't for me.
But then again, I might not. I wear threads of hope.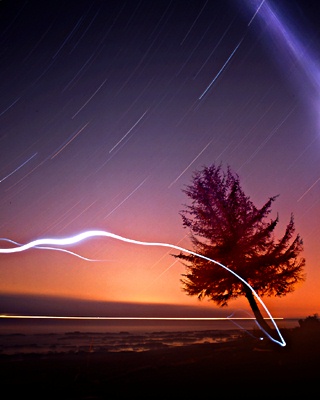 © Joey M., Spokane, WA