He Is Not Me, I'm Him
February 26, 2016
I'm trapped. Trapped into a situation. A situation that has a despair. A situation that does not let me walk on the decided path or even on the wrong one. It depresses me, keeps me entangled! Caught, caught in vein!
I'm not open, I'm hidden. I'm hidden from my own self.. I'm just like an open confused book. The person I believe is mine. Ethically isn't. I want to screech. I want to scream! I want to shriek my heart out! I want to shout to the loudest! But I can't because I'm hidden.

I'm frightened. Frightened from various things. My past haunts me. My future scares me, and my present has nothing valuable. I feel completely destroyed. Broken. Ruined. Hated. Lonely. But I fear, the person I love doesn't love me. I fear the person who means everything to me will leave. Will leave soon. Very soon.I fear. I fear to lose myself again.

I want someone. Someone who understands me. Who motivates me when I underestimate myself. Someone who knows that I am not fine when I say "I'm fine". But that someone shouldn't be anyone else, but him. But he won't. He takes it all wrong. I need him. Maybe more than I need my own self.

I feel rejected. I feel out of order. I'm busted, shattered and what not?!?! My heart does not listen to anyone. Not even my own self. But it wants to listen to him I'll make it listen to him. But,he won't speak. He gave me my pre-eminent. He is giving me my nastiest. I feel desperate. Every single night I manage my tears. I just wish that the four walls, my blanket and pillow never opens their mouth and share my tears and unhappiness. I want to crawl. Crawl to him. Like his baby. I want to be pampered. I want to be protected. I want to feel safe. I want to be loved. But he won't.

As he is not me….I am him.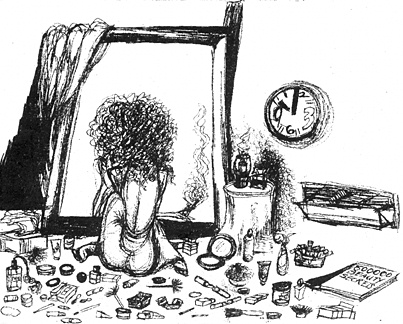 © Asha M., Philadelphia, PA