In Loving Memory
December 22, 2015
Your not dead. But who you were is dead. And this is in memory and appreciation of everything you've done for me.

He was a boy. He was beautiful in every way. And he saved my life. That sounded really cheesy and stupid but this wasn't meant to be a well finished piece. Its meant to share the beauty and the joy he gave me while he was here.
He wasn't perfect. He was far from it. He had his problems – his issues. Alot of them actually. He came from a broken home and he was irresponsibile when it came to his school work. He was rude to girls , he was a player, he was a kelptomanic but still he had a kind heart. Deep down inside he cared for me. For each and every one of us.
He always told me that I was beautiful . He'd watch me fall asleep on skype if I was having nightmares and hes sign off with an I love you baby. If I wanted to purge hed hold my hair back and hed sit there after as I was crying and tell me everything was going to be alright.

I am crying as I write this. The week I first told him I had an eating disorder I was going away to camp. He was devastated I wouldnt be able to talk to him for a week. He always told me how much he loved me... but I also knew I was the "other woman" and so I hadnt thought much of it until I told him about my eating disorder. He got closer to He never gave up on me.

He was resilent and strong and in some ways courageous and brave and I love they man I knew. He is no longer that man but that dosen't change anything he did for me.

So this is in loving memory.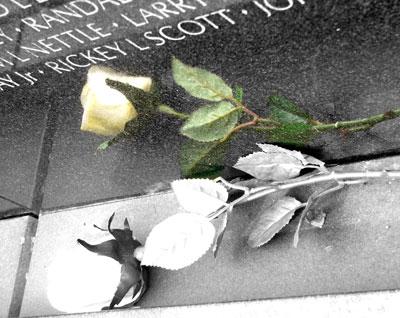 © Kimber E., Yorktown, VA