The Art of Remembering
November 10, 2015
If I was the night, he was the stars. If I was the ocean, he was my waves. I remember him, like I remember what happened yesterday. And then, like a meteorite, he left a massive crater in me.

I remember those days when he could sit on the couch and toss a beach ball back and forth to me and my little brother, making funny sounds that left us laughing until we couldn't breathe. And then I remember those days when he was sitting on the same couch, but he could not even find the energy to speak.

Nobody saw it coming. It was a total surprise when my grandfather had been diagnosed with cancer. Rounds of chemotherapy, weeks of visits in the hospital, and dark days filled with fear seemed to become the routine, for both me and him. We waited. And waited. For an eternity, we waited for either a positive or negative sentence from the doctors.

Finally, we got the news. But nobody was happy about it. My grandfather had three months left to live. I pretty much lived at his house, pleading that he would get better. I remember one day when everybody was gone, and my grandfather was asleep, but me and my aunt Tory were still at the house. I walked into the kitchen, and found her staring at the floor with an empty, emotionless look.

"Hey," I said.

"Hi," she had replied, monotone.

"Tory, why is this happening?"

She shook her head, not responding with words.

I went to her and hugged her, unable to think. I was numb. I felt like a teddy bear, filled with stuffing but no feelings. Being filled with nothing is the same as being empty.

She hugged me back, and she finally looked at me.
"Tatum, I know it seems hard right now. It is, I can't deny it. This is your grandfather, and my dad. And he's dying. I'm not going to sugarcoat it, it is what it is. But together as a family, we're strong. We're stronger than any family I know, and we will get through this."

I admired her strength. She must've been going through so much more than me. While I played pass and keep away with him in the living room every so often, she saw him everyday of her life. He was her dad, and now he was being taken away from her.

The next day, I went to school and found my old friend, Tanner, sitting on the slope that was in between the field and the playground equipment. I sat down next to him, sighing.

We didn't say anything. There was nothing to be said. While my grandfather was dying, Tanner's dad was dying from a brain tumor. I wasn't going to compare myself to him. Losing your dad is by far more terrible than losing your grandfather. I laid my head on his shoulder, and I couldn't hold back my tears. Still, no words were spoken.

Those three months passed in the blink of an eye. Next thing I knew, I was celebrating my last Thanksgiving with my grandfather, who didn't even want to eat. My dad pushed him in on a wheelchair, and he sat at the head of the table, not speaking or eating. The whole night was spent in silence. Eventually, it was too much, and I got up and called Tanner. We talked for a bit, occasionally me crying and him comforting me, and then vice versa as we spilled our lives to each other.

Two days later, my grandfather died. He may not have even felt it. He had gone to sleep, but never woke up.

A few weeks after that, Tanner's dad died. We mourned together, trying to save each other from the grief that threatened to crush us both. It was beyond just "difficult". It was impossible to cope with. We were fighting in a war that couldn't be won.

My grandfather was cremated, due to his dying wish. He didn't want a funeral, and we held up to our promise of spreading his ashes in one of his favorite places on Earth: my aunt's ranch. I respected the want of his immediate family, to be the ones to spread it. I didn't come because of that. However, I do remember going to where his ashes were. It was a beautiful place, with pink cherry blossom trees and a quiet bubbling creek. I remember walking through there and, surprisingly, having a smile on my face. A gentle voice in my head told me, he wouldn't want you to cry here.

So I smiled, and felt warm, despite the cold air of the mountain. I swear, he was there with me. Watching me. Eventually, I found myself dancing, spinning in circles and laughing like a little kid. I felt so naive, innocent, and young. But it was one of those times when, if somebody got it on video tape and sent it to the world, you wouldn't be embarrassed. You would be proud.

I was alone though, which made it so much more special. I danced for what seemed like forever, smiling, trying tears of pure joy. I didn't want to be anywhere else. I wanted to be here, with my grandfather. I wanted him to keep dancing with me, I wanted to see the sun reaching over the peak of the mountain, I wanted to splash in the icy creek, I wanted to feel the cherry blossom petals on my bare skin.

I go up there every now and then, spinning on the soil where his ashes had been spread. I realized that there didn't have to be music to dance to. You just had to see the stars at night, and the sun in the morning, and hear the voice of those you love around you. And sometimes, when you feel alone, just remember. Because the art of remembering is one of the best in the whole world.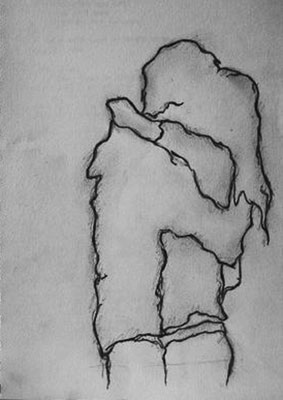 © Nicole B., Newcastle, WA