Anita's Devouring Depths of Clinical Depression
March 28, 2014
Laurell Hamilton once said, "There are wounds that never show on the body that are deeper and more hurtful than anything that bleeds." Anita May is the creator of "High Five." "High Five" is a symbol of success and cannot be achieved alone , just like depression cannot be managed without support from loved ones because "depression is like a secret society all by itself." "High Five" is a talk in which Anita talks about her own demons of depression and suicide attempts, and shares her story to give hope and inspiration to others who are struggling. Throughout her talk, Anita shares her strategies for coping with symptoms. She also shares information about finding adequate resources, as well as how important it is to have a support team.

Prior to being diagnosed with severe clinical depression, Anita lived a fairly normal life. She had a loving husband and two school-aged children. She also had an excellent full-time teaching position teaching at a local public elementary school. Her life began to spiral out of control because she was such a perfectionist. Therefore, she could not achieve it all any longer. She increasingly became irritable, verbally abusive and explosive to her children and husband. Slowly, a new Anita began to emerge. Anita began to isolate herself in her bedroom with the blinds drawn and she was unable to perform her everyday household duties, let alone, care for herself. She neglected her personal hygiene. For example, she failed to brush her teeth, to wash her hair and to take regular showers. She was not even able to get herself dressed.

Anita began the trial and error of several different medications including: Cipralex, Wellbutrin, Citalopram and Seroquel. However, none of these medications improved her condition. She went to psychotherapy and had regular appointments with
her psychiatrist to manage her medication. Throughout all of this, she was not permitted to go back to work. This saddened Anita because her entire life revolved around and was devoted to education and teaching.

Anita's husband, Brian described his experience with Anita's illness as a rollercoaster of ups and downs while she was ill. He determined that he could not ride the rollercoaster of ups and downs with her any longer because it was too unpredictable and had too drastic an effect on his emotions and stamina. He eventually realized that he had the choice to get off the rollercoaster, and he waited for Anita at the exit gate. This means that he had to take care of himself to prevent becoming depressed or creating a situation where he was going to burn out. This is when the beginning of Anita's journey to become well began because this is when she realized that she was hurting those all around her. It was up to her to overcome her depression for the sake of her family.

After trying several different medications, Anita was placed on another medication: Zoloft. Day by day, increasingly she started to feel a little bit better. She began to put more effort into her therapy sessions, and she even started to walk, paint and write. Her journey through the devouring depths of depression lasted over one year, but with her determination, she was able to get through it.

Since Anita's recovery, she has gone back to work teaching part time. She has also become a motivational speaker; thus the talk,"High Five" was created. She began discussing her journey at several different local functions. She has spoken at a yoga studio, and at a Knights of Columbus breakfast as a featured speaker. She has also been a speaker for the "Bounce Back Campaign". The "Bounce Back Campaign" educates elementary school children and professionals throughout the Thames Valley District School Board regarding mental health. Anita has also been on the local Rogers Television station's, "What's Up Elgin?" discussing her journey with mental health issues.

Currently, Anita is doing very well. She continues to take her medication to avoid another downward spiral or relapse. She is in the process of writing several different children's stories based on her experience and she continues to speak about her experience publicly. Without Anita, many people may not have had the hope and purpose to live, myself being one of them. Anita has ultimately become my personal saviour.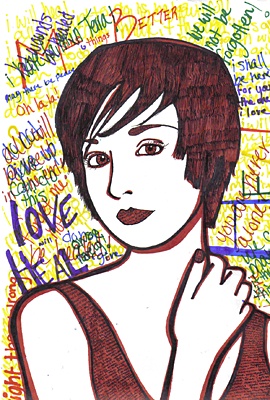 © Sara D., Aiken, SC