Wreckage
March 25, 2014
I watch the clouds slowly inch their way across the sky. My sister, who was sound asleep on my shoulder, was exhausted after a day of fun at her favorite amusement park. With less than a mile before we arrived home, my older brother was complaining about being hungry and having to use the bathroom. The three of us were crammed, hip to hip, in the backseat of our father's tiny, black Mazda. My grandmother turned around to talk to my brother as we approached our street. Upon stopping, my father asked for silence due to a headache. It was there, in the backseat of the car, that I heard the most terrifying noise I'd ever heard.

My father tried to warn us, but the shrieking tires behind us drowned him out. Everything seemed to move in slow motion when the truck hit us. My sister's face hit the center console, and my glasses broke on the back of the headrest in front of me and I felt my back pop in several places. The brand new radio my father and I had just installed flew outward from the dash, nearly colliding with my sister's face, but was caught by one wire that was screwed into the back.

My father was at my door within a matter of seconds, trying to pry it open. He was yelling, but I couldn't hear him. I must have been crying, my face was hot and I could feel the tears fall when I blinked. My back seared with intense pain and I could feel my legs. My ears were ringing and moving my head sent more pain down my spine.

I didn't think about much in those moments, other than if my family was okay. I could smell burning rubber and gasoline. Off in the distance sirens were going off. A man carefully lifted me from the car and laid me on a stretcher. I could see my grandmother and brother taking things from the car, and my father was holding my little sister, trying to calm her. I could barely hear her crying. As I was lifted into an ambulance I could see a large truck had smashed into the back of our tiny hatchback. A woman climbed into the back of the ambulance with me and was talking to me, telling me I'd be okay. At least I could hear again. I still couldn't feel my legs.

Later, I found out that nothing broken, just bruised really back. I had a black eye, glass had to be removed from the back of my head and neck, and had fractured my wrist trying to brace myself.

I missed the first few days of school, but when my friends heard about the wreck, they all came to visit me. The car was totaled and later my father told me that if the truck that hit us had hit his brakes a second later, we'd all be dead from an explosion due to the fact that we had just filled up with gas. I was very lucky for things to have ended the way they did, it could have been much worse.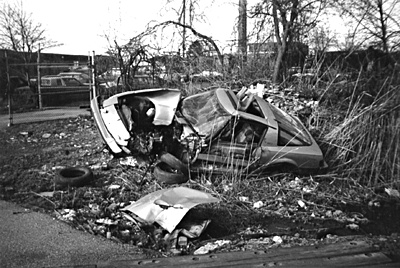 © Ashlee M., Wilmington, DE