Silence is Golden
February 17, 2014
Sometimes, it's hard for people to believe that there are times when I do not speak or talk at all. The ludicrousness of my admittance of prolonged, peaceful, thoughtful silence is beyond comprehension for most.

But there are times when I just like to look around and keep mum. Or have a book open in my hands, lapping up all the people and places I encounter through the words of someone else's mind. Those are the moments I enjoy the most. My face takes on this vague, blank expression which would seem uncharacteristic of me, if you didn't know me well enough. A mask I put on so no one can tell that there are but a thousand things creating a, sort of, dysfunctional symphony in my head. I say 'dysfunctional' because, at first, the music makes no sense. Just noise, and a lot of it. But there is a moment when I stop and listen closely to the contents of my mind. And that's when I achieve a clarity I normally don't when I talk to people.

I enjoy my garrulity as much as my silence; I like that I can talk for hours on end, (It's a lesser appreciated quality) but there's something about submerging yourself in silence, there's something about welcoming it. You pay attention. Colours are more prominent, sounds are more distinct and your mind is freer. You have the freedom, then, to ruminate. To wander without obstruction.

Sometimes, it's empty. The silence, I mean. Often, the vacuum is deliberate; it's okay to want to escape the sweet discord. I believe it's ever more wonderful, then, when you come back to it. But, I don't like purposely created vacuums. I feel treacherous running away from the thoughts that, above all, make me 'me'.

Sometimes, certain noises have a distinct similarity to them. As if the thoughts pertaining to one particular element have notes and chords of their own that sound perfectly harmonious together. Most of the time, I shun away from certain elements. Their music is lovely, but their notes and chords are those that I string together of my own accord. They are what I wish the song would be like if I had the chance to put them together, but when it really comes down to it.. reality makes music different to the one inside my head and I hate being reminded of that. Sometimes, I can't get the song of a particular element out of my head and that's when I hope for someone to talk to, to break my silence, so I won't focus on the melody. Sometimes, it's too compelling in its perfection, in its whimsical, dream-like, beautifully painful perfection and I have no option but to strengthen my resolve and just listen and pray that I don't fall victim to its falsities again. Sadly, my resolve and self aren't as strong as I would have liked them to be. Sometimes, I'm not sad about that fact either.

There's nothing wrong with preferring silence, and maybe even solitude. But, we must be wary that it doesn't consume us, that we don't end up preferring our thoughts to the company of others. If not for our most humane interactions with the living world - with love and hate and everything in between - where would our sweet discord come from?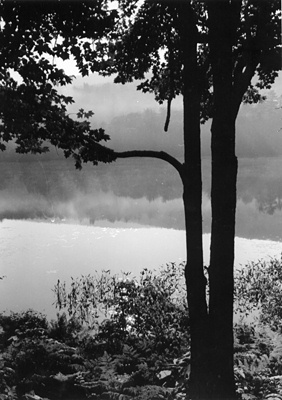 © Steve S., Marblehead, MA