My American Dream Essay
January 14, 2014
Go home and write
A page tonight.
And let that page come out of you--
Then, it will be true.
--Langston Hughes
Theme for English B


I was born on October 8, 1997, to my parents Jorge and Gabriela. I was their first child to survive birth, and not only did I survive, I thrived. I lived two glorious years of solitude before my brother, Jorge Eduardo, was born. He and I became, and always have been, the best of frienemies. My perfect family of four lived happy, ordinary lives for seven years, then came a little surprise by the name of Diego Emmanuel. I was nine years old, and really hoping for a sister, but I couldn't help falling in love with my hairy new sibling.

Diego's birth was a huge change in my life. Being the only daughter, I considered myself a princess and insisted on being treated like one. And I had been, up until then. I have to admit, the amount of attention this new baby was getting really made me jealous. But I managed to get by with my new lack of an audience. I simply decided that if you can't beat them, then join them. Poor kid, he got his share of playing dress up when he was little.

Not but a year later, another little minion appeared, by the name of Pablo Alejandro. I was given the privilege of naming him, to make up for the disappointment of receiving yet another brother. Two years later there was a new addition to the family, Julian Esai. I believe that was when I gave up on having a sister.

My siblings have changed my life in so many ways. I am a bit of a diva by nature, but as you can imagine, growing up with nothing but males in the family, I became a tomboy, too. And if you are looking to become a good, virtuous person, I suggest coming to live with my family. Living with my savages, I mean, my brothers will teach you to be patient and loving. If you last that long.

I was educated early on in a public elementary school. I will not name that school, because the next thing I'm going to do is to say how much I hated it there. In sixth grade, my mother decided to try and homeschool my brother and I. It was a bad year, but it was the year that I (at the risk of sounding cliché) found myself. In seventh grade, I entered a private school, and I ended up graduating from there.

This school, I really loved. I adopted my ten other classmates as siblings, and they raised me as one of their own. This was an important time because it was when I realized that I could read books and have friends.

I dedicated those years to my writing. Poems, stories, songs, plays, novels, memoirs, articles, anything, you name it. I've always loved writing. One of the proudest moments of my life was having one of my poems published in Teen Ink magazine, read by millions of people around the world.

Another extremely proud moment in my life was the summer before high school, when I received the Daniel Murphy scholarship. I had to write a long application and pass through nine grueling interviewers, but I did it. Without Daniel Murphy, I probably would have attended my local public high school. I shiver at the thought.

Then came the next instance of pride. Through Daniel Murphy, I was given a choice of attending just about any private school in Chicago, or boarding school in America that I could get into. I was advised to try for the best school on their list, dear old Ignatius.

Well. That's kind of a funny story.

I'm going to be honest. I hated this school. At least, I hated my idea of this school. I pictured competitive nerds whose social life consisted of study groups and chess matches. My mother somewhat forced me to come and take the entrance exam. I had basically already decided that I was to attend the Willows Academy, a small all-girl's school in Des Plaines.

Well, when I walked in, it was love at first sight. I felt like I had time-warped into some dusty old book with a burgundy cover, and a gold fringe. It felt magical. My only thought was that I could survive the homework, the commute, everything, if I could only feel like this every single day.

It turned out that I was right, and Ignatius is in fact a really hard school. I still love it, and besides, none of my other friends had the chance to go to Hogwarts.

There is just one more event in my life which I must mention because it is shaping my future incredibly. This past summer, I was offered the chance to be a part of the Western Golf Association's Caddie Academy. Through this program, I and twenty-two other girls from around the country were given the chance to live at the Evans Scholar dorms at Northwestern University for seven weeks. Everyday, we were driven by counselors to our separate country clubs, where we caddied all day for lots of rich, important people (including the president of Lou Malnatti's, who gave me a free large sausage deep dish one time). On Mondays, we caddied at WGA events, such as the Evans Scholar Invitational, or we would go on fun outings. This wasn't just a summer job, or an extra long sleepover. The end goal of each one of us caddies is the WGA's Evans Scholarship, aka, a full ride to college.

Last school year, one of my good friends, and my Improv club leader, Connor, became an Evans scholar at Marquette University. Ever since then, and since finding out that my cross country coach, Mr. Haffner, was himself an Evans scholar at Northwestern, it's become my dream. Being a part of the Academy has given me a huge advantage over other future applicants, because I personally know so many WGA directors. I've gone to barbecues at their office, played whiffle ball at their houses, met their families. They know my name, and I'm so proud to know theirs.

My American Dream, like that of many other first generation Americans, is to attend a university and acquire a legitimate career. It's my goal, and I'm determined to achieve it. Everyday, my Dream is what motivates me. Hope propels me through my schoolwork, homework, it pushes my pen across the paper. With me leading the way, doors will be opened for my brothers, who I love to death. And I know that I am so blessed and so grateful to have been given the opportunities that I have. They've made my path so much smoother, my road, faster.

Last year, I watched my grandpa cry when he saw me in the lead of the freshman musical, center stage, singing a solo. He didn't understand it. My grandpa doesn't know english, but he told me that he was just so happy, so proud at that moment. He could hardly believe how far we'd come.

Fifteen years from now, I'll be thirty. I will have a career and a family, as will my brothers.

In fifteen years, my new baby sister will be my age, and it will be her turn to dream.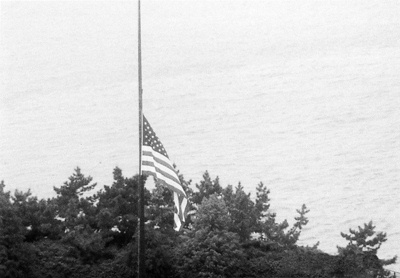 © Jessica E. Pelham, AL