Altering the Beat of My Dilapidated Heart
January 15, 2014
The hallways are so busy, so hustled, so dim with the onset of winter. We are frantic, stressed; energetically flowing through the capillaries of our school. 240, 260, 280, freshman wing. I think back to the commencement of all this, stepping out of the car, which hummed away with my adventures, my childhood, my liberation, my summer. I glare up at the flesh-toned building, or at least I try to- the humidity has fogged my glasses.

From the moment I entered the adjoined building, I hated it- the people, the teachers, the immaturity of hundreds of naïve girls, girls who didn't realize that their lives didn't depend on the adoration of a boy. By the end of my first week, I just wanted out.
Football season started up, and with that came marching band, hundreds of goofy smiling faces, with a flaring passion for noise and laughter. As I stubbornly surrendered my shell of insecurities and recluse, I started to meet people- well, I met one. Through the one I met more, and eventually came to know a large populous of the band, they were my friends, but I was always the outlier, what with not actually being in the band.

My one opportunity to see them, relate to them, was the football games- loud, crazy, earsplitting, football games, but I was eventually convinced to attend- I loved it. The band always there to jumpstart the student section, tweeting, humming, and drumming us to victory; the affectionately named Bleacher-Creatures donning their usual shirtless black and yellow painted chests proudly, pounding their feet against resistant concrete, sounding the charge to war; Dr. Greeney, standing on the sidelines with his little girls, showing them what it means to be a school, a team, a family; the smell of rubbery nacho cheese wafting up through the sweat and excitement and laughter we are all bathed in. The energy and vibe is overpowering and addictive, like a drug for which we won't be expelled for possessing.

But now football season is over, along with the noise, the late nights, the parties, and the unity of the school. We all returned to our normal lives, settled into a sense of normalcy once again. My headphones have replaced the scintillating brilliance of the brass section with synthetic rhythm, and the admirable moxy of the drumline- with the beat of my own footsteps down the hall.

I sometimes feel this weird connection to everyone I pass, an abstract sense of comradery gained in the final moments of some football game from our pasts.

Don't you remember me? I think.

Remember that final cheer? We all held hands and sang the fight song together. I plead.

You were the one standing next to me. I abandoned my Coke, so I could intertwine my hot sweaty fingers with the black and yellow paint of yours. I sink.

We did it, we really did, you and I and all of us. I reflect.

I guess you don't, that's okay. Thank you for this. I resolve.

It was in that moment, with you, that I felt that thing I'd never felt before- School Spirit. I am.

Friday Night lights, in it's prime. I smile.

I am, we are, our school. I revel.

It is in this moment, trotting down the sad, boring, dilapidated hallway, that I feel something different, something- not quite right, but then I hear it, the drumline, pounding out that final cheer in my heart, and suddenly everything is worthwhile again.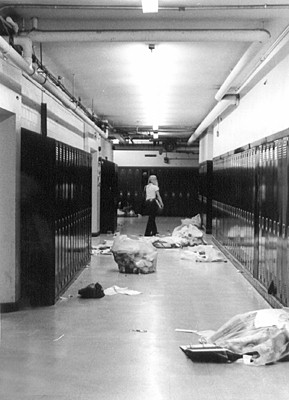 © Halsey S., Marblehead, MA