The Ground We Build Upon
December 17, 2013
Solid colors burst through my headphones; the voice of a friend rings out in pure expression. His guitar strums, hums, and vibrates at his command, obediently sighing with the rhythm of his work. I am amazed by how much talent he has hidden away from the world. C's to F's and back again. Majors and minors, highs and lows, sharps and flats.

The bright green melody of staccato percussion resonates through my ear, lively and awakening, the perfect start to one's day- flowing notes with bright strumming, and the slightest hint of loss to prepare for the daily downfalls we all experience. I feel like I know him better through his music, but do I really?

I am scared to ask him more, for fear of portraying my motives wrongly. He and his infinite wisdom against my disorganized, speech-impaired mind. If I am not careful, I could end up behind him, instead of beside him. He's my friend, I love him like I'd love my own brother, greatly and persistently.

If a picture is worth a thousand words, how much is a song?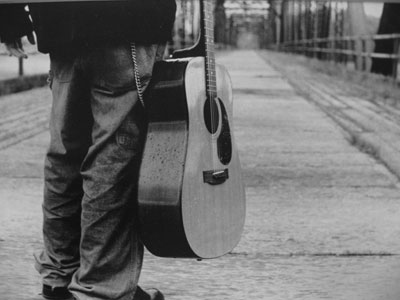 © Bailey M., Eagan, MN