Learning to Love Words
September 17, 2012
I was 5 years old when my father started reading me C.S. Lewis' The Chronicles of Narnia. I will always remember that series fondly as a huge part of my childhood and my first real encounter with literature. It was from those moments that my love for words and their meaning was sprouted. In fact my first memory of books was when I was 5 years old. I was sitting in my dad's lap listening to him read the first chapter of The Magician's Nephew. I remember thinking that the girl was very foolish to talking to the Queen who was obviously evil and not one of the "good guys". For most children sitting still and simply listening is a skill learned and not acquired easily. However, I was not an average child. As a kid I was very shy. So shy, in fact, that my aunt insisted I was deaf until the age of 3 because I did not respond to the things said to me. Testing showed my hearing was fine. That wasn't the problem at all. I was just too shy to reply, too timid even to acknowledge another's speech. There are endless family stories that get told to the boys I bring home about times when I would trip or embarrassed myself in front of someone and run out of the room crying inconsolably. It seems silly now, especially to the people who only know me as the bold singer and actress that I became the last half of middle school. However, before my confidence grew I was afraid of everyone and everything. I wouldn't let my mother brush my hair and I only sang when others weren't around. But even as a kid, with my dad, all of that was different. Sure I was still shy with him but I loved him in a way that only a kid-daughter can love her father. It was pure and he was my hero. His grey button-up work shirts smelled like honey and he had large warm arms that could chase away any monster I could think of. I loved it most when he read to me. It was out of those moments that my most sacred passion emerged.

Before bed each night my dad would sit up against my twin bed with a book. As he knelt down to sit his knees would pop and crackle. My father was a very old man, though he was only 30 at the time. He was always leaving home early for work and coming home late. Some nights he didn't come home at all. He was a very poor, very busy man. He wasn't a good employee and he wasn't so good with money, but he was a great dad. On the nights he was home and had enough energy to smile he would read to my brother and me before we fell asleep. He'd sit down and motion for us to come to him. I'd nestled under his arm and rest my head on his shoulder. My younger brother, James, would curl up on his other side with his head on our father's lap. That's when the story would begin. He held the book high when there was a picture so both of us could see and he even did all the voices. It was highly narrative and my imagination colored pictures as I listened. Those nights were the best part of growing up. It was a moment felt safe and free. I'm a lucky one. Not many people can say that.

My early exposure and good experiences with reading prompted a thirst in me to know all there was to know about books and writing. I jumped into literacy with a ferocity that a minority of children experience. Books were my safe place. I immersed myself in every genre I could find; adventure, coming-of-age, fantasy, sci-fi, horror, romance, mystery. I loved it all. Learning to write was a challenge for me because as soon as I started I wanted to write like the authors I had read so much of. I wanted plot twists like J.K Rowling and characterization like E. B. White. Obviously my first attempts at writing were not a fruitful as I had hoped seeing that I had unreasonable expectations for myself, but that's just part of who I am. Robert Frost once said, ""Sometimes I have my doubts of words altogether, and I ask myself what is the place of them. They are worse than nothing unless they do something; unless they amount to deeds" I hold this theory close to my heart and believe it fiercely. I am a believer in words. I know that words hold the power to unlocking a universe of possibilities. As far as languages go, I am obviously most comfortable with English seeing as it is the first (and only) language I speak fluently (though I know a little Spanish), but I don't hold any allegiances to it. Each language is beautiful in its own way and I could not hold one up beside another and say "This is right". No, you see my faith is in words. From the time when I was a shy 5 year old with a wonderful dad who read me novels to the 17 year old girl I am currently I have always had a love for words and the worlds they create. This has made me set high standards for myself and others and has made me judgmental and serious when it comes to reading and writing. I guess it is your opinion whether that is a good thing or not, but I think it is a gift. I love reading. I love writing. I love meaning. I find my happiness in it and no matter what age I am or what language I speak I know that will never change. I find myself in the words I read, write, speak, and love. For me, this has always been so and will always continue to be.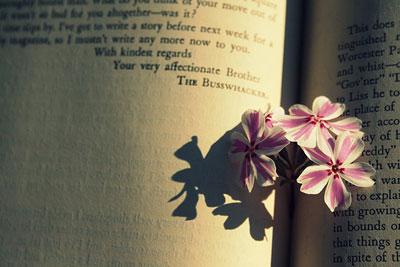 © Jordan K., Oxford, GA