The Writer
August 25, 2012
The fingers of a writer can only do so much. The number of stretches and pulls their fingers have to make in one forward motion is uncountable. Then there are the processes that the writer's brain makes between his/her neurons to create a thought. Then there are many thoughts. Depending on the language the writer chooses to use, there will be several more thoughts. Such as, the voice the writer wants to use in his/her writing, and the several errors that they correct as they write out their thoughts in their dominant language. Some languages are more complex than others which may delay the writer in some cases but the story must go on. A good writer has a stubborn heart, and will continue to finish their job. With today's new technology, a writer may be able to pick up the pace with a typewriter or computer. If the writer has more modern-day technology then he/she may be typing the story. But yet again the writer will have to use several hundred muscles in his/her hand before the story is complete. The writer is an engine. A well-oiled machine that has several different parts that cooperate as one and this cooperation creates a power. A power that is not only a thought or a story, but it is an influential masterpiece. A piece of writing is something that can be shown as a great accomplishment in that person's life. It is something that shows everyone else that the writer has the perseverance to complete nearly anything, and it ultimately shows everyone who the writer really is.

If you choose to be the writer you will reveal almost everything about yourself. That is why your English teachers tend to know more about you than anyone else. It's because whether you like it or not, everything that you write has something about you. It can be something like an experience in your past or something as personal as the way you think. All of it will be revealed in your writing. This is the reason why when you are writing larger papers, your teachers, peers, or whoever is reading them will know a lot more about you than you might expect.

Maybe we should be more careful when we are writing, or maybe we should write more. It all depends on how much you want to reveal about yourself. I think writing is a sort of release. I think it's a way for people to get to know me better without actually having to tell them how I think. They will just know who I am after reading a piece of my writing. I want them to know. I (as a writer) want my audience to know who I am, how I am feeling, and what I am doing with my life. I want you all to know me. That is why I am writing this. So maybe when you are reading between the lines you will understand how I think and who I really am. Huh, I guess it's hard for some people to do that, but if you are already a writer, you will know what to look for. I am a writer. Who are you?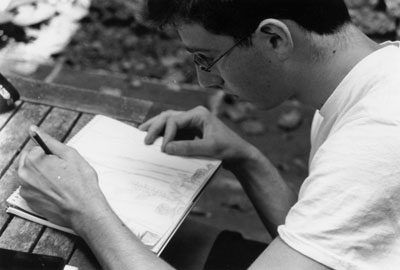 © Kira L., Bethesda, MD