Never Deleted
January 22, 2012
My eardrums felt like they were bleeding. But I had the biggest smile spread across my face. Every shriek of laughter and cry of indignation sent a shot of pain through my already pounding head. But I was having a very, very good time.

It was March, the weather rainy and chilly, but I was snug inside watching it through the floor to ceiling windows. Well, I wasn't really watching the rain. I was more observing the scene of complete craziness unfolding before me.

Almost every member of my extended family was crammed in to the room along with me, my parents and my two little sisters. A gathering of this nature had never happened before, at least not during my lifetime. Everyone had traveled to our house for my youngest sister's, Elizabeth's, First Holy Communion. This sort of thing was a big deal, and besides, all the aunts and cousins wanted to attend the last communion of the family.

I have a big family, and the living room, though of good size, wasn't exactly equipped to hold this amount of people. Kids were sprawled across the floor and in older cousin's laps, my aunts squeezed in on couches with my grandmas, and everyone else had to find an odd armrest to sit on. It was always like this with my family. For as long as I could remember, I had always been close to my relations. We hadn't had a family feud for many generations and both my maternal and paternal sides got along. I personally though have always kept in touch with my cousins and I consider them to be some of my best friends. My aunts were always there to answer questions about life and to give me a hug or some helpful advice. Though I didn't always see my Grandmothers, I had grown up on their stories. Some horribly repetitive, but still entertaining.

My dad and uncles came in from the porch smelling of cigar smoke and scotch. Though this might have bad connotations in society, it smelled like something special to me, a reminder of family and good times.

They went downstairs and came back up a few minutes later with the dry erase board and the Pictionary box. And this was when things got really crazy.


After a few minutes of squabbling over teams, we started the best game of Pictionary I had ever played. Everyone was screaming out answers all at once, making it impossible to distinguish who was saying what. In between rounds we joked and argued and tackled each other.

A few late arrivals straggled in, each brought a chorus of stories and hugs.

I remember thinking, "There is no way anyone in the world could be crying just now." I never stopped smiling and never wanted the night to end. Everything in my world seemed in perfect balance, just as my family always kept it.

As Italians, family had always been one of the most important things in our lives. We stayed close, and we had a great support system. Every member of my family had given me something that has shaped me into who I am today.

My Grandma Carol, sitting squished at the end of the couch, had taught me to always try new things, and more than once. She always (always) told me a story about the time she tried strawberries, every time I didn't like something.

My oldest cousin, Amanda, sitting cross legged on the floor, showed me that hard work pays off and anything is achievable.

The two older cousins on my maternal side, already squabbling and laughing, gave me my wild streak.

Talking animatedly in her Brooklyn accent, my aunt taught me how to love and be kind.


Dad's brother in law, my uncle, showed me how don't judge a book by its cover is always true. Because as tattoo covered as he is, he always calls my sisters and I princess and gives the best hugs.

My younger twins cousins showed me the power of knowledge. Even though they have to overcome challenges, they always seem to know more about the world than I do.

My little sisters have molded me into who I am in a tremendous amount of ways. Every day they encourage me to use my patience. I learned how to be more responsible whilst looking after them and they taught me how to care for others before myself. Elizabeth, sitting snuggled in my lap, reminds me how to be silly and young and how to have fun. Gillian, leaning against the ottoman, book by her side, made me into a big sister and teaches me something new (and usually profound) about the world and myself everyday, even if she doesn't realize it.
Hannah Marie, my little cousin, currently perched on her knees as though ready to jump up and dance, shows me that I need to stay a kid as long as I can and that being a girly-girl isn't at all bad.

Uncle Glenn, on the couch arms behind his head, how to laugh at myself....

Grandpa Richard, that no matter how old you are you're never too old to do what you love...

Grandpa Richard (the other one), looking down on me from Heaven, that no matter how far away you are you can always choose to love...

Aunt Genna, the dedication of a mother…

Grandma Barbara, the strength of family and memories…

Aunt Shannon, how to always have fun….

And of course my parents, sitting side by side, shaped me into who I am today in every way possible.

As I looked around at all my kin I saw a bit of who I had become. Each one of them had given me something I don't think I will ever lose.

But I was losing at Pictionary.

The vaulted ceilings began making the noise even louder and the game even crazier. The only real artist in my family was my sister and every ones else was failing miserably at drawing.

Food was brought out, another favorite of Italians, and the noise dies down until our stomachs were full. And then it started right back up again.

I guess that's what stands out most, the sounds.

Eventually my oldest cousin tired to establish a no screaming rule. The adults were all for it, them and their delicate ears. But the kids liked the chaos and the noise. I wasn't the only one. Of course we were outvoted, but the scene still didn't lose any of its magic. The magic and happiness was a constant.

Constants seemed to be a theme with my family. They, for example, had always kept me constant and true to myself, sometimes through teasing and sometimes through reverse psychology, but they always kept me there.

I sat shoulder to shoulder with my cousin, little sister in my lap, leaning against my aunt's legs, my Grandmother stroking my hair, and I knew this was exactly how it will always be.

See, I might outgrow my clothes or delete songs off my iTunes, but I could never outgrow or delete any of them.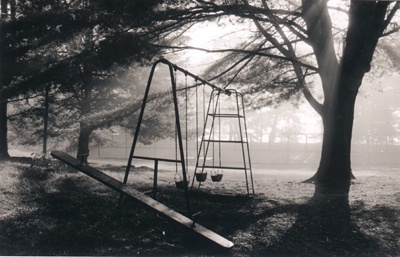 © Steve S., Marblehead, MA