Blueberry Pancakes
September 27, 2011
For the past few weeks, the weekends haven't just been about relaxation and fun. They've also been about blueberry pancakes. Over the summer, on the way to visit my brother at camp, my parents stayed at a bed and breakfast that served, according to my father, "the best blueberry pancakes I've ever had!" He eagerly asked for the recipe. I was, of course, skeptical. It's not that I didn't trust my father's judgment, but...okay, maybe I didn't trust his judgment. And so I was a tad apprehensive when he first served them.

Now, however, I can't wait for the weekend to come, to taste that blend of warm, cakey deliciousness. The blueberries melt on my tongue, with just a hint of that berry aftertaste when swallowed. They're soft and sweet; a perfect way to start the weekend. This is the one pancake I don't have the urge to slather in syrup. They taste like somebody decided to flatten cupcakes and cook them on a griddle. They taste like that satisfying warm food you eat when warming up by a fire or curled up under layers of blankets. Even my pancake-hating brother grudgingly admits to liking them.

Although these pancakes are wonderful straight off the griddle (literally), my family can never finish the whole batch, which means that the pancakes are put in a container and refrigerated. By some magical force, the refrigerator doesn't diminish the taste one bit – before school, I'll grab a pancake or two on my way out the door. The warmth is gone (obviously), but the cakey texture and sweet blueberries still go together in perfect harmony.

A slight pang of longing jolts through my body when I eat these pancakes. I remember cold Alaskan mornings, waking up to the sound of a dropped bowl or hushed conversation through the thin walls of our tent. Stumbling into the weatherport, the wonderful sight of pancakes cooking over the propane stove, sprinkled with bananas or chocolate chips, made my mouth water. The pancakes we ate in Alaska were made from a mix, and, although very good, taste-wise they don't compare to my father's recipe. But the feelings I had when eating pancakes in Alaska – the comfort, the happiness, the excitement of the start of a new day – they are the same feelings I get when I eat these blueberry pancakes. And that makes the blueberry pancakes that much better.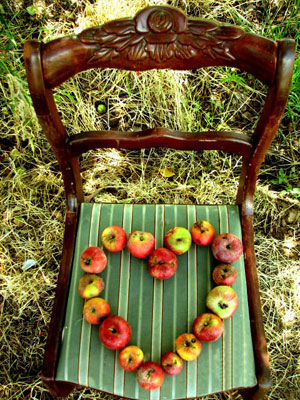 © LZ A., Grand Junction, CO