Newlywed Photography
September 11, 2011
The ocean breeze raked its fingers through my hair, now flowing with it's chilly breath. I closed my eyes and breathed in the salty air, tasting the fresh, green, pulpy seaweed. My hands gingerly touched the icy gate and I peered down to gaze at the ocean's violent thrashing of the shore. As I watched the foam cycle, appearing and disappearing, I envisioned the majestic and tall Titanic.

It would slash through the waves as I would stand on its deck, dressed in a large dark robe. Then, in the exact time it was now, it would crash and take a dramatic descent into the water. I shivered, knowing the water would be extremely cold tonight. My brother rapped on the glass door in the suite behind me, mouthing, "They are coming". I nodded in response and faced the small suite to make out my family opening the door.
All three crossed the wet grass to join me on the sidewalk. We walked silently to the beach-entrance, now empty of people.
My brother and I murmured our own conversation, leaving our parents walking hand-in-hand behind us.

Our destination? Alfredo's Mexican Takeout-Food. When we reached the beach, we walked together alongside the shoreline.
"Don't go in the water, or you won't get a burrito," my mother advised. I was considered the 'sensible' child and flaunted it quite well. My brother stiffened at the threat.

My parents laughed at some private joke while I raced my brother to a distant palm tree. We stood for a while and ran back to our father, playfully kicking and provoking him. He did a soft side-kick in the sand and remained in position for several seconds to show us how long he could hold it, laughing heartily. I watched him with large eyes, questioning the happy smile and lit-up eyes that seemed to illuminate the dark beach.

It was as if they were again newlyweds, fresh from marriage. After observing another newly-married coupe with a photographer running at their heels for pictures, my brother and I eagerly pulled out the camera to take pictures of our parents, posing as if ready for a magazine shoot. They happily hugged, unafraid of the future to come. My dad's laugh and mother's smile broke away fear and gave us hope.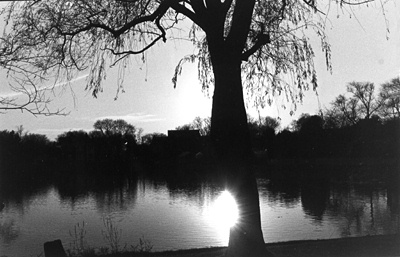 © Chuck K., Marblehead, MA