Dodging Thunder
September 11, 2011
Thunder flashed as my brother and I, sopping wet, slid gleefully down the slide. Our parents sat, laughing, at the table under the safe haven under the patio roof.

Our clothes stuck to our skins, but none of that mattered. The dark sky made us feel adventurous and mischievous, energy growing wilder by the minute. Within a moment, a loud crack snapped, filling our ears with harsh noises. A bright purple illuminated across the sky, bringing wonder to our young eyes.

We scampered under the patio, whimpering until the clapping of thunder stopped.

Our mother playfully shouted, "Don't go out when it thunders. It might strike you and then you'll be electrified!"

Although my brother and I laughed, our side glances showed a shudder and similar terrified eyes.

Suddenly, I pulled both into the rain. They were at first shocked, but then joined us on the creaking old slide.

We formed a game: we ran under the patio when it thundered, and then back into the rain, where we caught the drops on our tongues and whirled around. Standing in our pajamas, we stomped in the mud puddles and laughed as mud splattered over our clean clothes. My father began to keep time by jumping with one leg in the shallow holes in our green backyard, while my mother was laughing gleefully as we danced around.

And when thunder hit, we all scrambled breathlessly to the patio, impatiently waiting for it to end so we could return to the strained slide. All that mattered was that we were wet, and that everything was O.K.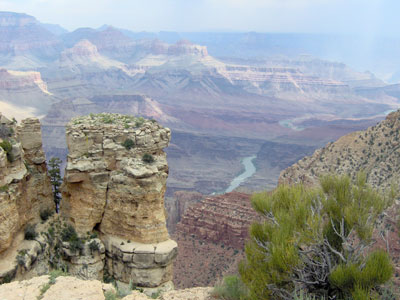 © Garrett C., Schenectady, NY