Sweet Memory of an Amidza
September 11, 2011
One memory has always stuck out to me more than the rest. I have never been sure if it was real or not, but it has certainly felt that way. Some days, when my thoughts are clouded or confused, the memory re-appears, forcing a smile to fill my face.

It is a memory of only two carefree people in a neat, warm, cookie-smelling room with poor furniture. My memory recalls that there were indeed sounds of other people stirring about and murmuring in low tones.

There was a thin man in a wheelchair, propped with his elbows on a small green-marbled table. I remembered he smelled of 'old-people' and his eyes a sparkling green. A young girl sat on the couch next to him in a flower printed dress, barely disciplining herself to the wild energy that flowed within her.

But the man's eyes stopped her. Between the two, a set of plastic pink teacups laid, complete with china saucers, a small teapot, and false tubes of lipstick and other beauty accessories.

It seems as if they sat there for hours, looking at each other while loudly slurping the invisible jagoda tea. A warm fire cracked and flickered while the heavy snow fell, piling two to three feet.

He, with difficulty, reached to the lipstick and playfully applied it to himself.

"Ne ne ne. Ne radiš kako treba," the girl said, smiling. "You aren't doing it right".

She leaned over and clumsily smacked it onto his face. They both laughed as they played for hours, but the man never spoke. Our conversations were silent, a secret understanding between the two of them.

It is one of the sweetest memories I have in Bosna. When I asked my mother about it, she told me that the man was my ami?ža, my great-uncle Fikret. Within several weeks of that one encounter, he died of a horrible fever.

Although I miss him and his warm eyes, I know he still remains in my heart, along with many others who, little by little, changed me as a whole.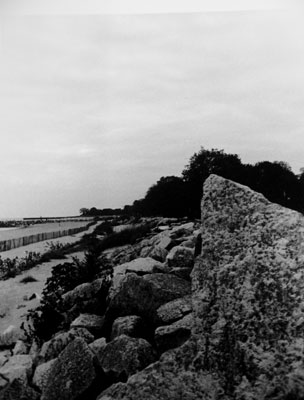 © Sean M., Apple Valley, MN