My Mask
September 4, 2011
Can you feel my fear? Can you hear my sad cries? Can you see my frowns and my frustration? No. No, you can't. I wear a mask, a mask that hides my true feelings. When I put on this mask that I've created I'm in a different world, a happy world. I can laugh and smile and sing and dance. I can enjoy my friends and actually have fun, but it's not me.

Me. That's a word that's very hard to describe. I don't even know who I am, where I come from, which world I'm in. Am I hiding in a dark hole, afraid to come out, scared that someone will hurt me? Or am I floating high in the sky, feeling free and open, knowing not one person can touch me? I don't know. I'm confused and lost and afraid.

What am I doing here? What's my purpose in this world? Am I supposed to make a change? Am I supposed to feel this way? What's wrong with me? Am I okay, depressed, sad, happy? These are the questions I don't have answers for.

I have a mask, but sometimes I forget. I forget if there's a face behind it, hiding from the real world. I can't tell which one is me, or if the other's really there. Is there really a sad side to me? One that's so depressed that she's confused? Or am I all happy? Is it really there or am I imagining it? Maybe I just think I have a problem but I don't and I'm just going crazy. Do I really need a mask? Do I really have a mask? I don't know, but I still keep wearing it.

And now, as I put my mask back on, hiding my fears and sadness, my loss and confusion, I ask myself a question once more.

Can you fix glass that has already been shattered?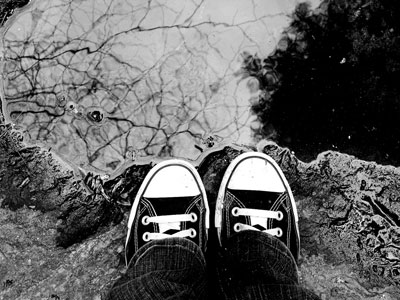 © Michelle B., Blairsville, GA