Things We Should Regret But Never Will
May 4, 2011
This is the end of August. The beginning of my sophomore year was to start in a week, and I haven't done a thing all summer. I convinced my mom to let my friend, Chelsea, stay the night. With nothing to do at my house, we walked to the City Park down the road. We went round and round on the merry-go-round. Finally, I decided to text the only person in Toledo that could hang out this late; B.J. He was the perfect person for a time like this; two teenage girls with nothing to do, and one very handsome older boy with a car.
Of course, being the shallow older boy as well, he needed to know if my friend was 'hot.' I sent him a picture of her, knowing he'd come. She is in fact pretty; long dark brown hair with dark eyes. Everything I knew he liked. He said he'd come, but was bringing his friend.
She and I patiently waited; I kept an eye out for his deep blue Trooper. It pulled into the parking lot. We slowly walked up to his car; I eagerly waited seeing his gorgeous face. His shaggy dark hair, his deep blue eyes, and his smile that made me melt inside and out. As we reached the driver side window, I saw it. His white teeth glistened in the moonlight. Even now with a mustache the 19-year-old was the cutest boy I had ever seen, that is until his friend came around.
There he stood, holding out his hand.
"I'm Sam," The boy said. His smile was similar to B.J.'s. He had long blonde hair with a red bandana atop is head. His face, that of a cute little boy, but 'hot' of that as an older guy. He then started riding around the parking lot on his skate board. Attempting to get Chelsea and I to try it. We declined.
Even though it was obvious they were stoned, Chelsea and I accepted their request to go to Sam's house roughly 10 miles away. Chelsea and I hopped into the back. B.J. and Sam started rambling in the front. B.J. wasn't paying attention much; he kept going over the lines and followed closely behind the cars in front of us. Chelsea and I clenched each others' hands in the backseat, praying we wouldn't crash.
After finally reaching Newport, we stopped at the gas station. Sam climbed in the back between Chelsea and me. I leapt into shotgun. The stereo was blown out so Sam blasted his cell phone music. We reached Sam's. He had a garage bedroom.
He had a king size bed in the corner and a couch in front of it. There were wrappers and clothes, along with moldy food and porn on his floor. I took the seat by the mini refrigerator. Chelsea, Sam, and B.J. took the couch. B.J. kept to himself on the computer, while Sam played his guitar.
"I write my songs when I'm on the toilet or when I'm naked," he said.
Eww. I thought.
"Hey, will you get me my Sobe out of the fridge," Sam asked me.
"What do I get out of it?" I shot back.
"I'll give you a hug," he spoke with his smile.
At that I immediately opened the spoiled milk smelling ice box and grabbed the Sobe. It looked like it was there for years. But I still threw it to him.
My cell phone went off, it was my mom. She kept calling and calling. My phone died. Then Chelsea's. Sam offered to act like a girl friend of ours' mother but he was too stoned to do anything. We convinced the boys to take us home, and that we could sneak them back to our shed.
Sam and I hopped in the back.
"Thanks for the hug," I sarcastically commented to him.
"Oh. Sorry," he leaned over to me and wrapped his arms around me. I felt like I was in heaven.
We thought it best if the boys dropped us off at the bottom of my hill.
"Where have you been?" my mom yelled at me.
"At Alyssa's."
"Yeah right."
"We are going to sleep in the shed."
"No!"
I left the house and Chelsea followed. We met up with the guys at the bottom of the hill and I explained that there was no way we could sneak them around my mother. Next thing we notice is my mom's head lights shining our way. The boys hid and Chelsea and I ran to the car.
Paranoid much? I thought and finally realized, life is definitely worth the risks we take. Make's it mysterious and exciting.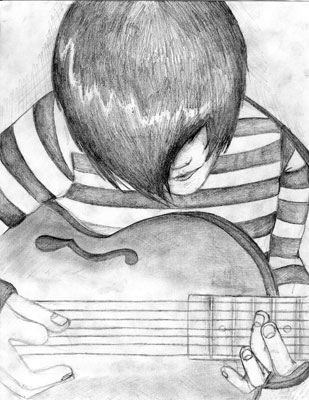 © Amy R., Yardville, NJ