A Driving Lesson
MAG
December 3, 2010
I am not my father. As a boy he was always ahead in life. He had a job at eight. He could drive at nine (this was okay because he grew up on a farm). He has led a very competitive life, excelling at everything he tries. Like I said, I am not my father. I follow the rules and take no risks, so you can probably imagine the fear and reluctance I felt when Dad decided to teach me how to drive. I was 13.

The day was like any other – unremarkable – until …

"Hey, Josh, let's go for a drive!" My father, always the optimist, encouraged, "It'll be fun."

I don't remember what I was doing at the time. It doesn't matter. It was probably something stupid or pointless like playing on the computer or staring off into space, mouth wide open.

I didn't understand what he really meant, so I simply answered with my usual "Sure." I began to walk to the garage when a large hand denied my passage, and my father pressed the gleaming silver car key into my hand. I felt my heart skip a beat, not out of joy or surprise, but sheer terror. I stared at my father in disbelief.

Dad only smiled and said, "You should start learning how to drive."

"Dad, I won't even have my permit for another two years," I objected.

He immediately went into lecture mode. "I learned to drive when I was nine, or was it seven? Anyway …" I don't remember the rest. I have this habit of tuning him out.

I don't know what kind of voodoo he employed, but somehow he managed to get me into the car. I turned it on, put it into reverse, and slowly pressed the gas.

"Josh, stop!" I barely managed to stop in time. If I hadn't, I would have hit the garage door.

"Open the garage door before you turn the car on, okay?" Dad chuckled.

The next hour was a blur. At first, I inched through the streets of my neighborhood. In time, I sped up. I didn't even hit any pedestrians! I was by no means a great driver; my dad had to yell "Josh, stop!" frequently. Soon, pressing the brake became an immediate response to his voice.

I was having the time of my life cruising around my neighborhood. I could have spent an eternity navigating these roads I never knew existed. However, all good things must come to an end. Besides, the day was growing old, and the sun had dipped below the horizon, so I drove home, not needing to slam on the brakes even once.

Confident of my newfound driving abilities, I sailed us straight into the garage (maybe a little too fast). My foot reached for the brake, and we slowed a bit.

"Josh, stop!" I heard, and mechanically moved my foot from one pedal to the other. My foot had been on the brake; now it was on the gas, pressed all the way to the floor. I didn't realize this mistake until it was too late. My body pushed back into the seat as we accelerated. My terror was only momentary, because a great "Boom!" pulsed through the garage. The car had stopped, or rather, the wall had stopped us.

I stared through the windshield at the mangled ladder that lay between us and the wall, gazing at the destruction that I had caused. It was too much to bear. Holding back tears, I glanced over at my stunned father and said, "Sorry, Dad."

I was expecting punishment. A grounding for life. No more food. Forty lashes. Maybe even death-by-guillotine. I was ready to plead for my life, but instead my dad started laughing.

"You busted that wall up pretty good, Josh."

I learned two things that day. One: never speed into a garage. EVER. The next was even more important. I discovered that no matter what happens, you should keep a positive outlook. I look at my father's optimism and how happy he is, and I know that that's the kind of life I want to live.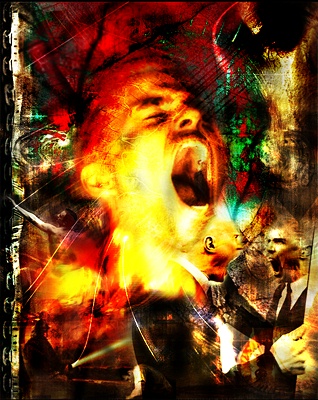 © Mark P. Woodside, NY