A little adult
November 28, 2009
I was born in Columbus, Ohio on July 1996. I was raised by my mother, father, grandmother and grandfather. I also have a brother and an aunt that I lived and now live with. When I was about 1 years old, my mother and father got divorced.
Now that's just the start of my life. When she left I continued my life in Ohio until I was four, and then I moved here to CT. My grandma and dad raised me to be very responsible and mature. So, by the age of 7, I was already an adult(just a statement.)
Now, here I am... 13 years young and still growing. I'm a quiet kid in school but people adore me. They love me even if they never met me. I'm not trying to brag if you think so. Anyhow, I'm a very busy kid. I'm in a lot of groups and I have a band to practice with everyday. It's been three months- I've had three days off of my schedule. I know I'm making it sound like I'm complaining. But, I'm not.
I'm an adult now-in my world-and sooner or later I'll be older than my 42 year old father. I feel that I'm missing out on the childhoods that all the other kids have. I sit at home and have so many responcabilities. I never go out with friends or just chill out with people where I don't have to worry about anything. I never can relax. There's always a fear of not being able to grow up the way a teen should. I think that if I grow this way, I might fail at what every teen wins. I'm so immune to failure that nothing matters anymore. Well, except for trying to find my time machine back to my could-have-been/ should-have-been childhood.
Each kid is like a flower. Planted and watered to grow at it's own pace. But as for me, I was planted in a certain type of soil and watered to grow up to be just what my parents wanted. And I guess my mind grew too fast and I became an adult. So, am I a gift? Am I special? Will I fear to grow more by age? I can't live in this darkness anymore. I need the escape. I need that time machine. I need my life, my should-have-been childhood.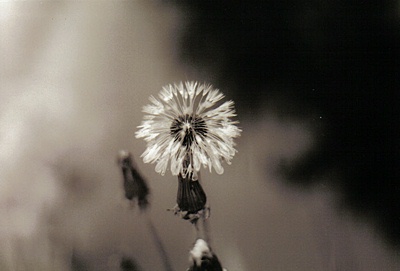 © Sarah S., Poland Spring, ME