The Death of the Arthur
October 22, 2009
When we went to Turks and Caicos, we never imagined that something horrible would happen there and change our lives.

There are voices. Loud, frantic voices. And lights, scanning the beach and the crashing waves. There are boats in the water, like ducks on a pond. Everyone is searching for someone, straining their eyes to see him, and straining their ears to hear him.

I was on vacation in Turks and Caicos with my entire family: my mom, my dad, and my sister Lucy; my uncles, John and Michael; my aunts, Colleen and Vicky; my cousins, Matt, Katie, and Sam; and my grandparents, Mefr and Arthur. Earlier that day my grandpa had gone snorkeling, which he loved to do. He complained that he wasn't feeling well all day, but he still went swimming alone.

It is dark and cold. The salt from the ocean stings our eyes and makes them water. Lucy and I stand quietly by the open door and survey the scene with wide eyes. On the beach Mefr is trying to explain to a man what Arthur's shorts looked like. They were funny shorts, with a blue and red floral print. Arthur always wore them. The sand castle that I had made that day was trampled by the people on the beach. The feather that had stuck out of the top is broken and hanging. I hold my brown bear closer and look into the darkness, where, far away, there are dots of light and the sound of people calling "Arthur!" They are hoping for some reply, but there is none.

I went to bed then, and don't remember anything else. My grandpa, Arthur, was never found, despite all the searching. Soon afterwards my dad, Lucy, and I went to Miami, to Matt and Katie's house. My mom stayed for the police investigation. I was five and didn't understand what was happening.


I remember so little about my grandpa because I was very young when he died. I only remember what he looked like because of photos. In one, he is holding me and smiling like he had just won the US Open. (He loved tennis.) He had big glasses and blotchy skin from being in the sun too much. When he smiled, his eyes would crinkle up and make everyone else around him smile. It was like all around him was an aura, a happy, smiling aura. It was impossible not to love my grandpa.

I feel that, when he was alive, nobody ever appreciated Arthur enough. We thought that he would always be there for us and nobody ever expected that the last time anyone ever saw him would be getting into the water that day. When he died, we realized that he took care of all of us. He would do special things to make us feel loved. After finding out that sushi was my favorite food, he would buy huge platters of yummy raw fish every time we visited and smile as I ate it.

If he were still alive, Mefr wouldn't be so sad. Maybe they would still travel all over the world, which they loved to do. Maybe Mefr would still write books. Mefr would not be living on her own in their big house. Arthur would be there.

Losing my grandpa was like losing a favorite toy. Sometimes you don't realize that the bear (or whatever the toy may be) is gone right away, but when you do, you feel like crying forever. I hope he knew we all loved him and thought he was amazing and that if he died we would all miss him. Even Lucy and I, who were too young to really understand what had happened, would miss him.

The saddest thing about my grandpa dying is that I didn't have him for long enough. I had him for less than half my life and never really got to appreciate him and be with him enough. When he died, it was hard to understand. I thought that the world revolved around me, and because we loved him, my grandpa would always be there for us. I've only recently started to tell Mefr that I love her because she wont be here forever. I never got to say that I loved my grandpa.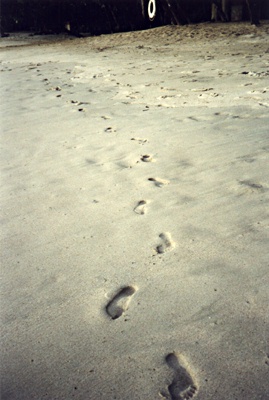 © April W., Rogersville, MO