Speed of Heartbreak
September 4, 2009
Heartbreak- noun. A black hole that forms in the middle of your chest that consumes everything and anything inside of you. As a result, each memory of him is whipped through your mind causing an explosion of emotion from within.
A thousand and one pieces of the now sour memories, a thousand and one reactions.
Piece one: A crisp early June day, sun shining, birds chirping. Anxieties pulsing through my veins as I wait the moment that could make it or break it. It's a new feeling, a strange one too, the feel of his arm around my shoulders as I close my eyes, feeling at ease, yet having my stomach filled with a thousand butterflies flying around. The warm tingling sensation of his fingers tracing circles on my back. Our first moment. The innocence.
Piece two: His smile, crooked and easy. The laugh lines that formed from sixteen years of sheer happiness. Eyes twinkling, young love.
Piece three: Long blades of dark green grass tickling my legs. Long, tan fingers tickling my stomach. Gasping for air after hours of hysterical laughter. The grass really is greener on the other side.
Piece three: Cool July day, plenty of goose bumps, but not from the weather. His warm breath against my ear; "I love you." The chilly air suddenly exploding with new feelings. The bright sensation of being significant to someone else.
Piece four: "I can't wait to see you, even if it's only for an hour. Anytime with you is worth it."
And that time flew, leaving nine hundred ninety seven separate memories permanently sketched into my mind. When you feel like this, time seems to have stopped. Bliss keeping you from reality as the hourglass sifts away.
Piece six hundred twenty seven: Blankets upon blankets in the middle of July. Still shivering from the musty, frigid basement air. The familiar tale of the princess falling for the ogre playing on his old TV. Only, it felt like the prince fell for the ogress.
Piece one thousand one: Possibly my favorite place in the entire world. Raymond Moore Auditorium. A normal Tuesday morning spent with possibly my favorite people in the entire world. Leaning against him for support was a nice comfort.
"Can I talk to you for a second?"
It didn't click right away
Piece one thousand one and a half: The confidence that my favorite shoes brought me soon dropped.
"Look, I've been really busy lately, I'm sorry I haven't talked in a while…" The cobwebs that hung delicately from the house lights were distracting me from the pain that was soon to come.
"But I just don't have enough time for this all. For you."
And those thousand and one memories came rushing back, all combining with the hateful feeling of being unneeded. There was no time left for me, was there?
Time. There never is enough of it, is there? That day, it had blurred at the speed of heartbreak, the vision unclear through tears and attempted reassurances.
It's a silly thing, really. One moment you feel it changing with you, the next, you feel left alone as it moves on without you.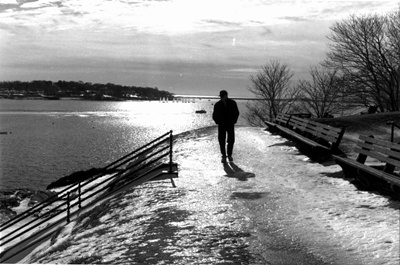 © Steve S., Marblehead, MA