Day's River, Night's Tunnel
October 28, 2021
The winter I was a fourth grader, beads of ice broke on the windows, water leaked from the radiators at my house. Outside was the snow. I had pink hearts on my coat and a little flowered headband on my head. My tiny sneakers echoed behind me. When I bolted downstairs from the hospital waiting room, my brothers, Joe and David, were with me. Night was a river current, pushing us down the halls. My left hand was smeared with ink, black as the February night. All I could hear was the breath going in and out of my brothers' lungs.
We were sticking together, three ragamuffins, while Mommy visited Daddy upstairs. The picture was always the same. Kicking legs, bored faces, unread magazines, contagious kids, schizophrenics, loners. Pale hands, pale faces, sleet souls, phone conversations, ripped gloves, rainboots, stuck zippers.
Down in the hospital halls, paintings lined every wall. Strange still life flowers, vivid, leering. Antiseptic flowers on the ceiling, blood pressure monitors, stretchers, red crosses and hearts, locked doors, passageways, staircases.
No, Joe, I want to go back! Take us back!
Joe said, I love the thick cement walls. They make me feel so safe and secure. If we were in a tornado warning, this would be the place to go. These walls would never topple or crumble.
He had been watching Left Behind that year he was a sophomore, thinking he saw messages from God in the pink moon and in the smoke trails left by airplanes. I was afraid of volcanoes, earthquakes, and alien abductions. Even though Joe had said, Why would they want to take you? I was nine, he was sixteen. Joe and I were two kids terrified of the End Times. That was about the only feeling we shared. We sometimes visited each other's rooms in the middle of the night when we got scared of things and needed each other. My other brother, David, would never understand, or so we thought. He cried go home.
People will talk. People will say, he's the immature boy who wouldn't listen, who kicked and screamed and swore at his parents, and Davy is an elopement risk, low-functioning, non-verbal. I say, my brothers, my great defenders. Sky white and black— white inside the hospital, black outside the hospital—wrote inside the lines of our splotched, inky lives.
Our mom told us later, we shouldn't have been wandering around unsupervised. Our dad was too depressed to know what we were doing. We were only on the road, wandering the cool hospital hallways. Green eyes, blue eyes, true eyes. Snow eyes, spring eyes. This time, we faded out down the halls like an outro. What were we hoping to find in the hospital? Only little bits of time stuck to our souls. This time, we faded out down the halls, three forsaken kids. Little bits of time protected, sticking together forever.
Years passed. I was homeschooled through middle school and high school. Fourteen, fifteen, sixteen, all disappeared under my bicycle wheels. In the summer, I would try to see how far I could ride on country roads. My throat burned with thirst under the summer heat rays. Corn was green and hot in the fields, standing straight as pins against the creamy, cloud-laden Illinois sky. Pumpkins and hound dogs, barns and horses, houses and trucks whizzing past me…I tried to keep pedaling, keep pedaling. Tar and tire tracks marked the places where I'd trekked. When I got home, I saw my brother Joe's car junk strewn in the garage with the acrid smell of gasoline. Across the street from our house, the same old hot dog shack kept getting opened and closed. Sometimes, we got to know the owners, and sometimes they were just nameless and faceless drifters. I dreamed of running away with my bicycle on Aphrodite wings. I wanted to see what magical adventures lay around the bend of the pancake-flat country roads. Deep down, I knew that even if I traveled rocket speed, I wouldn't see anything new or exciting—just more cornfields, windmills, barns, and horses. Even when I finally did get my driver's permit and escaped, it wouldn't be the same. Illinois was Illinois, the world was the world, and no matter how travel hungry and adventurous I got, every exotic place I'd visit would be too normal. The itch remained. I wanted wild seas and burning palm trees. I was always sketching maps of the world. My lifelong desire was summed up in Mom's soulful John Denver song, "Looking for Space." These are scenes from my life so far—
Days at the Brookfield Zoo, giraffes and the smell of cages. Walking in forest preserves by a green, silver lake. Egg salad sandwiches and juice boxes. Bicycle tires deflated, car transmissions giving out. Glasses and watches, dishes falling. Mom's cross-stitch hoop, birdhouses forming under her needle. Long evenings spent wandering the cool library alone. Soap-stained road trip skies. Traveling to the group home to visit David under a Cheeto-scented sky.
Listening to jazz, dancing around the coffee table on Saturday. Cleaning my room, hanging my maps and drawings on the wall. Saying goodbye to Joe as he met his honey. Paper dolls accumulating dust, my dollhouse crumbling with neglect. Paper poems in unread tatters, documents opening and closing. Brothers swearing, strangers not caring. Ball games at the playground, where I rode in endless circles.
Feet in the creek, laughter in the sky. Insomnia, white noise, longing for the sea. America, Dan Fogelberg, Seals and Crofts, John Denver, Steven Curtis Chapman, Margaret Becker, Michael Card, pianos and guitars and endless radios singing me awake on car rides.
Fights, doors slammed, flowers on the table, thank-you notes, jellybeans pouring into my hands, bedtime stories, snowy roads, mold in the apple tree, wishes on gravel. Hair cutting shops, lights on Aurora, lights on Chicago, lights on bridges, rivers carrying my Mom's thoughts to the sea—
Going home for a moment but never passing that way again.
Back in Hanover, Indiana, in 1974, my six-year-old mother lost everything she owned in a tornado. She always talks about it every year on April 3rd. She's lived through many tornados, but this is the one she will never forget. For years afterward, sheets of metal stripped by the tornado stood wrapped in trees down in what she called Happy Valley. If I look into a Hanover tree, I will see naked time huddled around a scraggly wood bough, preserved by the wind and sun. If I look too closely, I might see my reflection in the metal, staring back at me from where time forgot.
I am a senior in high school now, but I am already the Memory Game Girl. I remember—
When my brother David came home from autistic school, leaping like jumping beans from the school bus, he had to wolf a grilled cheese sandwich and play his memory game. I would find David and Mom flipping cards aimlessly at the table. Sometimes I would watch them, bored and entranced. David wanted to flip the same two cards over and over. He'd do it all night if you let him. I wondered why Mom looked transfixed, as though this were a high-stakes poker game. Fuzzy cards and scarred table and breadcrumbs, autistic fingers.
Just like David, I'm caught in flipping memories around, trying to see if I'll find something new in them, this time. I know it will always be me staring back, my reflection caught in the time trees. When I was little, I would crawl with my brothers, crawl in the McDonalds' playland tunnels. Memories are like tunnels I'm scrunched inside, sometimes looking behind me to see if I left something valuable, sometimes staring across the tunnel, as though looking for a face far away. It's always me I find—I know it will always be me staring back.
Caught in an introspective funk, changing and not changing at the same time, I watch the people at Wednesday night youth group as though I am staring out a train window at the landscape. Each glimpse of a kid or a leader sweeps right past me, and I don't really know anybody at all. I can't ever pin down what people are feeling or thinking. Only their outfits are different—their expressions are always the same. And they're always moving, like molecules under a microscope. Loud music plays, worship music with unintelligible lyrics, electronic music filling the church with a warped and strange noise. Everyone has to shout. They all sound the same, and after a while, they begin to look the same. Pizza and lemonade in hand, candy bars in hand, coffee in hand, cell phones and pool noodles in hand…they're always playing a new game. Kickball, slip and slide ball, knockerball, gagaball. Perky college girls hold WELCOME! signs with the church's logo, and every time a visitor walks in the doors, they act cheerful. I know it's all pageantry, the smoke and lights, the guitar player's hair in his face, the drummer in his cage, the preacher urging kids to read their Bibles for five minutes a day while slow, sentimental notes are played on the keyboard. And I feel ungrateful, just coming and going and never speaking to a soul if I can help it. I feel ungrateful thinking these thoughts secretly. When I am outside, the distance and the highway swallow me up, the streetlights swim, and I am deluged in vague thoughts. All I see are flowers on the wall, just as I saw in the hospital long ago. I've been up and down these halls. Somebody jolts me out of my reverie in the middle of a church party as I stand like an island. Somebody wants to know my name, somebody wonders how my week has been. Somebody wants to talk. I should talk, too. Make a friend. Then something snaps inside me, snatching me away from the present, and I'm staring down memory. Nobody can find me in these tunnels. Well, the year gets to changing, and all the kids go home in their cars. The lights are on inside. Maybe I can find my way down this tunnel, even if I'm out of everybody's sight.
They talk. People talk and talk and talk. The talking and walking goes on in a gray hollow log till the day is done. Oh, to return to a less fuzzy time. To cuddle up under a blanket with birds and soft bunnies, to walk with Frog and Toad, to feel soft butterflies, to fall asleep as tiny as a bug in a rug. To brush my teeth and have my mother brush my snarled hair. To feel all tucked in and safe and dark because I know the light is on in the closet. To fall asleep thinking about my bedtime stories. Oh, bring me back to little storybooks that are the same every night. Bring me back to night whispers and branches and lights in the windows. Bring me back to the safety of knowing there is a nameless babysitter outside watching over me and my brothers. Bring me back to the safety of David thrashing so hard his blankets become crumples as a blue-eyed woman sings to him things I can't make out. So long as he thrashed, he knew he would surrender and fall asleep, tender and green-eyed and almost home to normal. His bedposts would sound tinny and he would be in his zipped-backwards pajamas. Bring me back to safe nights and streetlights and not knowing people, only trusting them. Bring me back to bedtime cuddled up with all the dolls in my basinet and waiting for the tooth fairy. Take it away, then, this feeling that I have accomplished nothing for all my frantic typing and striving to say something to make my life useful. Bring me back home to a house with a different atmosphere, when even an earthquake or a car-crash was not enough to wake me up, and secret parents came to check on me in the night and saw my balled-up fist around my hard little baby-doll. Bring me back to small soothing drooling and sucking-snoring sounds and smooth nights and old songs.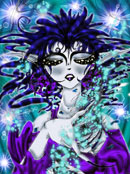 © Lena B., Olympia, WA