Mejor Amigo
January 30, 2020
Meeting someone new, hanging out, holding onto memories that will last a lifetime. Every friendship has something special taping them together. Distance has bumped it's way into our life; technology has kept us together.

First Serve

I knew from the first time I shared a laugh with the new kid, he was going to be my forever best friend. Santiago B. was a new kid who transferred to Northeast Community School District from Panama. After learning where he was from, questions started running through my head like: Why Iowa? How did you hear about our school? What was his old school like? I was lucky enough to sit by him in my middle school English class. He knew English, but he would sometimes mix his words up, I couldn't help but chuckle at him. Overtime I began to get to know him. He loved soccer and was very good at it. They didn't have school sports teams where he was from, they were all clubs teams. Replaying past conversations and memories we made never gets old.
Freshman year came, and we were both starting to figure out high school and helped each other get through the long school days. The classes I had with my best friend, were never dull. We would laugh at each other for making the littlest mistakes. I always knew if I needed help, I could go ask Santi, and he would try his best even when he didn't know what was going on. Going to school wasn't the only time I learned. Santi always had something new to tell me whether it was school related or random things about the world. As the years went on, we learned new things about each other.
Time Out

Sophomore year of high school, our friendship grew stronger as we started to hang out after school and at school events. This was the year I absolutely knew I had a true best friend who could never be replaced. Santi and his family were so enjoyable to be around. Santiago and his father are very polite and thoughtful no matter what is going on with them at home.

Losing sucks

Junior year was by far the most memorable year I had with my Mejor Amigo (best friend). We had our own little thing: I would run and jump into his arms, he would spin me around and after that we would give each other the biggest hug. Santi loved to make people smile. He would always joke around about moving out of the country again to be with his mom, but one day joking wasn't the case. I remember the day Santi came up to me and said,
"I wanted to tell you this, but I couldn't tell you over text… my dad and I are planning to move to Spain towards the end of the school year, but we are not completely sure when we will be leaving… don't be upset, there are ways to stay connected, and I promise I will always be here."
In the little amount of time we had left, we tried to make the most of it.We had countless fun trips to Steam Anchor after school, but one of our last trips before Santi and Oscar left, we let our tears run down our faces. Months felt like days, days felt like hours, hours felt like minutes, minutes felt like seconds, by then, the seconds on the scoreboard were counting down faster than I could think.
Senior year came around, and I needed help with what to wear for my senior pictures. Having Santi around is like having a personal stylist. The week before my pictures were scheduled to be taken, Santi had helped me choose a light pair of pink jeans, a colorful striped shirt, and silver sandles; jean skirt,a white shirt, and a brown pair of dressy shoes: and lastly a pair of dark jeans, a lilac shirt, and white vans. I always asked Santi what to wear when I was doing something, or if I just wanted to dress up, and he would never fail at making my outfit look good.

Next Game

Some time soon I plan on visiting my Mejor Amigo and his family in Spain. Losing someone who literally knows everything about you is really hard, but there are many ways to stay connected. Thinking about the positives of the situation and not the negatives help you get through the hard times, and in the end you will be reunited. Time and patience, we talk about seeing each other again. Time and patience, we both save money. Time and patience-
"I am going to talk to my dad about coming back for everyone's graduation parties!"
Seeing these words pop up on my phone screen, made me feel like I had just scored the winning point. I am very excited to see my Mejor Amigo again, but if it doesn't work this time, there is always another time.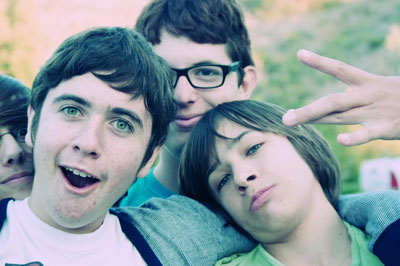 © Piper A., Somewhere, CA