Move to America
October 16, 2019
Move to America
This is the whole story of why I moved here to Battle Creek, Michigan.
Back in August 2014 my mother Rachel met my stepfather Scott. They fell in love with each other and decided to be a couple. Their relationship blossomed wonderfully, my mother was very in love and my stepfather proposed to my mother. Not long before their anniversary as an engaged couple, they decided to get married. In July 2015, my mother and stepfather tied the knot to be a married couple in the Philippines.
I was the witness of how happy my mother was when they were dating long distance. They were surely in love to each other that a few months of dating long-distance, my stepfather flew to the other side of the world to finally meet my mother. He flew to the Philippines to meet my mother It was emotional on my mother's side because they both had been waiting for that moment to be and to see each other in person. When I first met my stepfather, I felt a little awkward, but then because he is a very cool man, I got along with him easily. On his first visit to meet us, a lot of great things happen. We got to know him more and we showed him around and even brought him to some tourist part of our city. We all had a good time with him and my family. He showed my grandparents that all his intentions were genuine. He asked my mother's hand in marriage from my grandparents because that is a filipino people tradition that before you propose, the man should have asked the bride's parents first, it is kind of asking their blessing. And since my he showed respect and my grandparents saw how genuine he was, they gave him the blessing. So, after he had the blessing from my grandparents, he then proposed to my mother. And of course because my mother was so madly in love to my stepfather she never hesitated to say "Yes!". Cheezy isn't it? But that's their love story.
After the engagement, my stepfather flew back to his place in the United States. They were back to being a long distance lovers again. Their story was not all perfect, just like any other relationship, they went through rough situations too but they handled it well and proved over and over again that love works even in a long distance relationship as long as the two of you are in constant communication and wants to resolve issues and problems before going to bed. They continued to be in a long distance relationship for a long time. My stepfather had to save a lot for a planned wedding.
Long before their anniversary of being engaged, my stepfather flew back to the Philippines to marry my mother. It was in July 2015, when they got married. The ceremony was held in one of the churches in our city. It was the happiest day for both of them as to myself too. It always great to see your mother being happy once again after a failed relationship with my biological father. It was very satisfying to see my mother glowing with happiness. That time, I couldn't ask for more than anything than seeing my mother very happy. It was a festive day for us, it is also a tradition back in the Philippines that the wedding ceremony must be attended by all immediate relatives. We were surrounded by family and friends and there was a lot of food too. It was a great celebration for the newly wedded couple. My stepfather stayed with us for a couple of months before heading back to the United States. After flying back here, my stepfather was planning to get my mother and me over here so they could be together. So after he went back, he was again saving money to get us here. It was a lot of months to save up because getting a visa for me and my mother was not inexpensive. On our end back in the Philippines at that time, we had to gather all the documents for the visa application. My mother was the one who gathered those documents. While my mother was gathering all the documents my stepfather was working hard to save up for our next journey. With all his determination and goal to bring his family over here near him, he made it. It was not an easy journey for my stepfather and my mother. They have to endure the struggle of being away from each other and they believed that everything will fall into place they will be with each other again without the other going to say goodbye again and wait for too long to see the other.

So then, my mother scheduled the date of the interview and we flew to Manila from Davao to undergo an interview with a US consulate officer. In Manila, we flew a day early before the interview. My mother and I settled in a hotel near the embassy. The next day, we headed to the venue and there were a lot of people lining up for their interview. It was a long long line. Everyone has to stay in line until it's their time to go inside. It was very strict, everyone was ordered to not bring any gadgets inside for security purposes. Inside the embassy, there are a lot of people sitting down and waiting for their turn to be called into one of the consulate officers windows. I was just observing what was going on, I was not nervous or anything but I can tell that my mother was nervous. I did not ask questions, I was just following my mother wherever she goes. When it was our turn, we were called to one of the windows and there, an officer was reviewing our documents that my mother submitted and asked a few questions to my mother. I was asked questions too and was able to answer all of them. The officer was meticulous, I observed as he flipped on the pages of documents on the table he made notes also, I was not sure what it was. Long story short, the interview did not take so long really. It only took maybe 20 minutes of questioning and checking documents. After the interview, without any other words, the officer congratulated us and handed a pamphlet to my mother and gave my mother some instructions on what to do next. After we left the embassy's gate, I can see my mother's face of being relieved.
It took us a week to get our visa packet in the mail. Right after we received it, a few days after we got our tickets to fly to the United States and live with my stepfather. It was in May of 2017 when we took our flight over here. When we arrived at the airport, my stepfather's mother was there too to welcome my mother and me here. My stepfather drove us to his apartment where we live until this day. When I first got here it was quite different. The weather keeps changing every couple of months. Everything went well for us when we got here, my stepfather made sure that everything is taken care of. He is a great father of mine and his first children. I have not felt any awkwardness at all when he is around. We are best buddies and he surely is a great father to me.
And this is the whole story on how I got here in Battle Creek, Michigan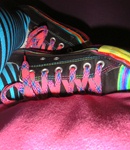 © Melanie R., Milpitas, CA