Why Him?
October 5, 2018
He didn't deserve to die, especially not this young. One morning, I carelessly woke up like any other day and checked my phone. My friend Nick texted me asking if I heard about Davey.
I replied with, "What about him?"
"He got injured really badly and is in the hospital." Nick texted back.
Nick didn't know the full story. I was going to my grandma's house that day and my cousin, Sam is in Davey's little brother's class, so I asked him if he knew about it. Sam told me what had happened, and I was terrified for Davey and his family, but had death never crossed my mind. As awful as the injuries were, I truly told myself that there was no way he could die. He'll be ok, I thought to myself. The hospital will fix him. It'll just take time for him to heal.
I had seen Davey at summer camp the year before, and a girl in my cabin was obsessed with him. She thought he was so cute and I felt bad for her because I knew she wasn't Davey's type. She always asked me to talk to him for her, and it was kind of awkward. Although Davey and I went to school together we didn't talk much. After camp ended, I had seen Davey at every public pool I went to, Plainview, Douglass Hills, and Lake Forest. I think he was on a swim team. I'd say hi to him when I saw him.
On Friday, September 7, 2018, my friends and I were going to the Trinity-Male game. My friend Alexa went to St. Margaret Mary as well, and she also goes to Assumption so she just road home with me. When my mom picked us up from school, she told us she was going to make a stop at Kroger. Ugh, I thought to myself as we drove off from school. When we got to Kroger, I asked her if she could go fast and if we could wait in the car. She yelled at me, then said we could wait in the car. As the car door shut, I rolled my eyes.
"She can be so rude sometimes," I complained to Alexa.
Alexa didn't say anything and all I heard were sniffles. I looked back at her and she had tears in her eyes.
"Dude, what's wrong?" I questioned.
"Davey died," she cried.
"How do you know?" I said in doubt.
"Just look all over social media," she pointed out.
Chills ran up and down my body as tears started to pour from my eyes and sorrow touched my heart. I could just imagine him walking around school and talking with his friends. I couldn't imagine him just laying in a casket with his eyes closed and lifeless. It made me sick to my stomach just thinking about it. I then remembered how his dad had died just a few years ago and that thought killed me. His poor mother and brother had lost two very close family members to young.
As I walked into the Trinity game I saw Jay, Davey's best friend. I knew Jay was in a lot of pain, but I don't remember Jay ever being serious. Jay's taught me a lot of silly songs and can make a hole room of people laugh.
"Hey, Jay!" I said as happy sounding as possible.
"Hey," he laughed.
"What are you doing?" I jokingly said.
"Walking to the choir room," he laughed.
As he walked away, I felt bad because I didn't know if I should've said something like, "Sorry to hear about Davey." But I didn't want to make him feel sad or awkward about it because I wasn't that close with Jay either.
When the game was about to start, they said some very amazing, touching words about Davey. Then they sang the National Anthem, and something sounded familiar about it.
"Hey, why does this sound so familiar?" I whispered to Alexa.
"It's the National Anthem," she said annoyed.
"No, the voice stupid," I argued.
"Oh. It's Jay," she explained.
I've heard Jay sing before, but it was just amazing at the game. I felt so sorry for him, yet I knew Davey would appreciate all that people were doing.
During the game, I was talking to a group of friends and looked to my right. I saw someone I truly did not expect to see: it was Davey's little brother. His brother and I had just talked last week. He was throwing his phone on the ground to see if it would crack since it was in an otter box case, he's quite the jokester. His brother has a good group of friends that he hangs with at the games and my cousin is in that friend group. He was walking alone. I debated on going over there and talking to him, considering he and I aren't that close either, but luckily one of his friends walked over to him. As the game went on and people were having fun, there were points where I felt so sorry for him that I would just shut down and stare, lost in my thoughts. Why do people die so young? He had such a bright future. He was so smart and worked hard on his grades. Why was he taken away from us? What did he do? 1 rainy day ended his life.
Davey didn't deserve to die, especially not this young.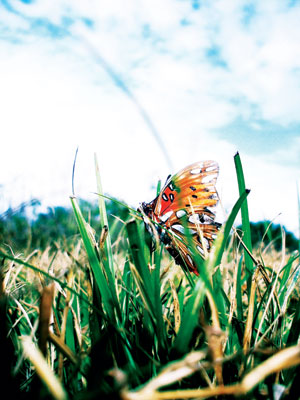 © Ashley B., North Port, FL