The Other Side
May 30, 2012
My dad was born on September 17, 1973. He was born in a rural ranch in Guadalajara, Mexico. He lived in a house with one room as big as an average classroom. He would eat once a day, and sometimes not at all. He grew up with two other brothers. When my dad was about three years old his father died and his mother went to the United States by then. He had to live with his aunt. He had a hard time growing up with his brothers, but they supported him. His job was pretty much watching after the cows and pigs. He grew up cherishing the good times with still remembering the bad.

Boy, when I was a kid I had to do lots of work. I had to take the cows to the tall mountains every day. It might be unbelievable to you because it was five miles away from the ranch. The only way to bring them back was to throw rocks at them. After that, every afternoon I had to go to school.

I never worried about school because I was very smart. Every night, since I was about your age I would always practice reading my maps. I would always try to memorize countries all along north and South America. I wanted to be smart so later on I can find my mom. I never got to know her but I had old photos of her. I always wonder how it will be to have her. I was still happy with what I had. All I needed was my aunt and two brothers.

I remember one time when my buddies and I were playing soccer and we were talking about how we can go to the United States. We all knew someone who successfully went to the United States. My brother had already left by the time I was fifteen. I remember when he would send us money every month. This helps us support our family. This made me want to cross the border. I really wanted to make some money.

My brother had hired a coyote (guide) for my friend and I could cross the border. I was first driven to Tijuana where the coyotes were. We met him in his car where I gave him all of my money. The coyote told us the route that we were going to take. I saw many people already going through that route so I demanded a different one.

While we were hiking down the river, many people from the opposite was were running toward our direction. The coyote told us to hide behind the bush. We stood there with our other coyote and we decided to leave to not be spotted. We jumped into the salty river and held our breath.

We stood in that water for a long time. I remember when I needed to poop and my friend said to just go in the water. I just did it in the water because I really needed to do. While we were in the water a helicopter was flying toward our direction, so I dove deep inside the water with my eyes closed and held my breath for so long as I needed until the helicopter went away.

I have finally got out of the water with the helicopter far from my sight. The current have dragged us closer towards our destination. We walked the rest of the way. We walked into an alley and waited for the coyote. We did not see him and we were tired from the long trip. We slept in a large garbage can. After a while in the garbage can we heard a big slam. I stick out my head enough to be able to see. I saw many people fighting just outside the garbage can. I was scared if they opened it and started to beat us up also.

In the morning my friend and I were starving, we have not eaten and we had no money. I gave the coyote everything I had. We were still waiting for the coyote to come back. My friend asked if I wanted to give up and ask the immigration if they could take us back to Mexico. We were about to give up and the coyote had finally came back, I was so relieved and happy that he came back. From there on we were fine. I lived with my cousins and got a job at a recycle center. I am so glad that I did not go back to Mexico.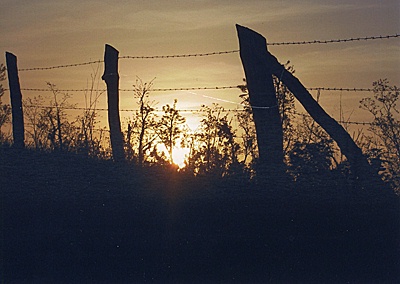 © Michael T., Letart, WV