A New Teacher's Point of View
March 27, 2009
Mr. Barroso is a new comer to teaching at Marshall Middle School. Since he his so young, most of his 7th grade teachers are still teaching. I had a chance to interview Mr. Barroso about this topic.


Q: Which ones of your teachers are now your co-workers?
A: "Well, there was Ms. Bailey, Mr. Dryer, and Mr. Karns. Mrs. Banfield was here but I didn't have her as a teacher."


Q: What inspired you to become a teacher?
A: "I was inspired by my teacher and there dedication."


Q: Did people support your decision to follow this carrier?
A: "Yes, especially my mom and my dad. They really had my back."


Q: Out of all of your teachers/co-workers do you look up to the most?
A: "That would probably be Ms. Bailey, she is my teaching Mentor. (smile)"


Q: Why do you look up to her like that?
A:" like her teaching style, it is original and fun."


Q: What is your favorite part about working with this age group?
A: "I like their willingness to try and do things differently. I couldn't get a high-school student to even try to do half the things that you guys do."


Q: Who do you look up to Celebrity wise?
A: "I haven't looked up to anyone in a long time.


Q: Do you see yourself as a strict teacher?
A: "No, not strict enough, I found out that I have to lay down the law if I want things to happen. I am just now realizing this 6 months into it."


Q: What did you want to be before you wanted to be a teacher?
A: "I wanted to be a scientist, or maybe even a chemist I can't remember!"


Q: What were some of you other hobbies that you had as a kid?
A: "I was big into music. I played a variety of instruments. They were mostly all string."


.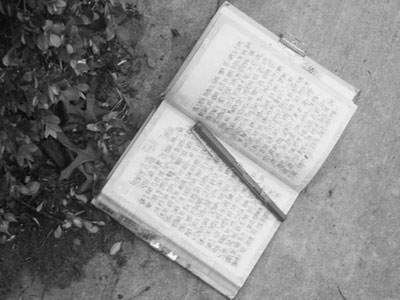 © Quinn B., Lubbock, TX