Thank You, Korean War Vets
March 9, 2018
Dear Korean War Veteran,
My grandfather was a Korean War veteran as well. He was in charge of operating a browning 50 cal machine gun. Unfortunately, that's all I can definitely say, as he died when I was only 8. I never understood what everyone meant by a veteran. At such a young age I couldn't put my mind around what veterans had done. In turn, I was never able to truly thank him. Now that I have more understanding and to honor him and to honor you, I am writing this letter to show my gratitude.

I will most likely never be in a situation you were put in at my age. Being 17 in high school has never been easier. I don't worry about the draft, I don't worry about being taken from my family and forced to fight for your country. For this, I will thank all veterans and specifically, you. By giving up your freedom at my age, I am able to go to college. I am able to pursue my dreams without a worry in the world. For this, I cannot give enough thanks.

The Korean War Veterans are special. From being drafted to fight with the UN or from coming head-on with the newly communist east, you were some of the toughest soldiers in the world. You soldiers are the only reason South Korea still exists. If it were not for you, the North would have crushed the South. You are truly a hero. You fought the aggressor who wanted to impose beliefs that the people did not want. I can say I am proud to be writing to a hero such as yourself.

Now that you have seen the Korean War Memorial, how do you feel? When I went there with my family, it was amazing. I loved it because it showed me a glimpse of what the war was like. With the quote as you enter the memorial "Our nation honors, its sons, and daughters, Who answered the call, To defend a country, They never knew, And a people, They Never Met." It represents the only connection that was there was a common understanding of freedom, which is truly remarkable.

With so many people calling the Korean War The Forgotten War I can't understand why. This War was an act of selflessness from the Americans who served in it. You had no reason to be in Korea except to protect those who could not protect themselves. So if historians say that this is the Forgotten War I want you to know you are not forgotten. With so many kids my age being too scared to say it I want you to know we appreciate everything you have given to us. I am eternally thankful.

Thank You,
Ben A.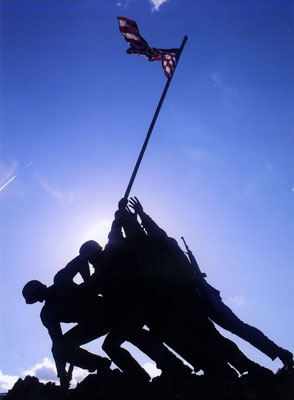 © James M., Glendale, AZ