Mother - Janet
MAG
My mom has always been there for me, she is my biggest cheerleader by far. Whenever times are hard and I consider taking the easy way, she never takes pity. Instead, she tells me that I can be anyone or anything I want as long as I refuse to give up. The word "impossible" is not part of her vocabulary, and she is the biggest believer in the expression "Can't means won't." She sees my potential, and is pushes me hard to do the best I possibly can.

As I was growing up, my father was in the Army so we were constantly on the move. Just when I found friends or a school I liked, I had to leave it all behind and start over again. I will admit that moving this much made life a tad lonely, but my mom did all she could to help me feel comfortable and lift my spirits. In retrospect, this much traveling was a blessing because it made us close. I feel completely comfortable talking to her because she is so trustworthy, understanding, and open-minded.

I respect my mom so much because she doesn't treat me or talk to me as if I'm a child. She gives me the space I need to live my own life, make decisions (and mistakes), and to learn from them all. I cannot recall when she was not there to lend an ear or offer advice when I needed her support.

Unlike friendships that can fade or break, I know I'll always be connected to my mom, no matter what I face. Truly, she is not just a role model, but someone I love.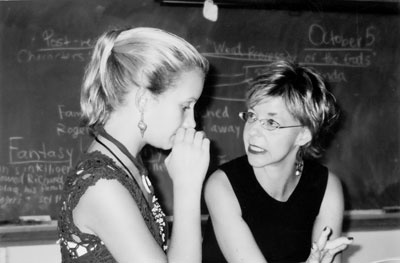 © Anonymous