Mandela: A Hero's Journey
June 13, 2012
Hero comes in many ways of challenge. A hero is a person who does something that helps the world. Mandela, a freedom fighter, was born in 1918 from a rural land. When he was 7 he got his name changed to nelson. He had a lot of problem as a kid from moving to a new place to meeting new people. As he grew older he starts to experience apartheid and townships. Townships are slums and nasty places that show apartheid. It is like the segregation of one group. He became a lawyer and fought for his people.

When he was a kid, his father died and never had anyone younger than him. He was the only boy and the youngest out of all of them. He spends a lot of time with his father because he was the heir to the throne. At age nine, his father died and he had to move in with his uncle. He was a rural boy so he lives in the countryside mostly. As a kid he also had many problems but not as much as when he moved to the city. He saw much stuff that he has never seen before.

As he grew older his uncle thought that it was time for him to get marry. Mandela wasn't ready to get marry so he ran away from home and was in Johannesburg. That was when he saw apartheid and saw townships. Apartheid made the townships and the townships made the segregation. Mandela saw what was happening to his people so he went to school and tried to fight for his people. He also joined the ANC or the African National Congress. The ANC tried to stop apartheid from spreading to other places. Mandela was caught sabotaging and recruiting people into the ANC. Mandela life was on the line so he became an outlaw. An outlaw is a person who disobeys the law. He was on the run for several months but he was caught later on. He was caught and brought to court being sentence to life in prison.

Mandela was placed on Robben Island. He didn't go alone into Robben Island but with a couple of his friends in the ANC. In their opinion they thought it was a university. People educated each other in one subject. His prison cell was 7x7 with a bed on the floor and a bucket to do his business. Each and every morning they would go out and go to a quarry to smash limestone. He had a lot of confidence that he would not die and would go out and talk to his people. After 27 years of prison, he got out with the help of MR. Klark.

After 27 years of prison, he was released on February of 1990. There were millions of people waiting for him to get out of prison. He gave a speech that also grabbed people from homes and other places around the globe. In 1995, he received the noble peace prize with Mr. Klark. He inspired many people by how they should treat people the way they want to be treated.

Mandela was a hero because he always fought for people need. There were many examples of him being a role model for his people in South Africa. When he was nine he showed courage without crying when his father died. There were many townships that were nasty and were slums. It was a poor part of town that had only blacks. When he was in jail he showed much confidence that he will not die. He showed inspiration towards many people at or in his speech. "I will break my arm, my leg, my neck, and I would still not let him go "From the movie Invictus.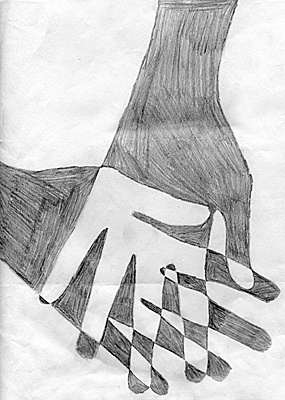 © Warlito B., Tamuning, GU