My Eternally Heroic Friend
April 13, 2012
Suicide? Would that be your thought after being beat, raped, and homeless? What would you do? What can you do? My hero went through that. What did she do? She got on her feet and past the past and didn't look back. She didn't do it on her on though, she had a savior. A hero as you would call it. Someone who saw more value in her life than he did his own.

A hero to me is a person who does what has to be done, when it has to be done, regardless of the consequences. My hero is Sariayah. Sariayah is my best friend, better yet my idol. She helped me change a decision that could have changed my life forever.

Sariayah was heroic during her whole life. During her childhood, Sariayah stayed strong after everything she went through and she went through a lot. Sariayahs childhood is very similar to other who grew up in broken homes, around drugs, abusive homes, watching people die, rape, and much more. Her childhood was messed up, and so were many other children. So what makes her special and unique or different from the others?

Sariayah's childhood doesn't define her. She made a way to accept her childhood and turn it into something that was better than nothing. Sariayahs childhood made her a better person and made her succeed in life. Sariayah was born October 23 1979; she was raised by a single mother, who couldn't keep the men away from her door even if she paid them to. Her mother had sex with over hundreds of men just to feed baby Sariayah. Sariayahs father wasn't there for her because he was shot in the chest 15 times on his way home from the hospital, when Sariayah was born. So all she had was her mother. Her mom was actually doing well raising her, just in the wrong way. But at least she took care of Sariayah. Sariayah had fresh cooked meals every single day until the age of 12. Her mother was getting really sick. She got so sick to the point where she couldn't even make the money she needed for them to eat. So Sariayah went out to pan handle to feed the both of them, it wasn't much, but it was all they had. 3 months later, Sariayah found out that her mother was diagnosed with AIDs. Her mother was so broke she couldn't even afford the medication she needed to help her survive. Sariayah took care of her the best way she could though. A month later she died in her sleep. Sariayah didn't know what to do, but she knew that she would have to live on her own now.

Sariayah ended up homeless, living in the streets, in abandon homes, and cars. She ended up meeting a drug dealer who had a connection. She started to deal and it was going good for her. She saved enough money to buy her a tiny apartment next to a liquor store. But she messed up. She started to get money hungry. So she started to have sex with men for money, just like her mother. But she didn't do it on a regular basis. She only did it once a week to get a little money in her pockets. She was only 15 at the time. But at least she was making a life for herself. Later on she found a sugar daddy that did everything for her. He was a big time drug dealer. All she had to do was have sex with him and suck him whenever he wanted. He gave her money, a house, and a car. She was treated like a queen. She was his queen until he got locked up for 20 years. He got caught up in a drug trade. She fell apart. He left her to handle all his business. She tried but she wasn't made for it. She was too loose with the drugs. She got caught up. She had people watching her and she didn't even know. One day she was just chilling in her crib, and 6 black men ran up in her house. They took all her money, all the drugs, and they beat and raped her. Could you imagine getting beating and raped by six men you couldn't stand a chance against?

After being beating and raped, all Sariayah wanted to do was die. She had no home, no money, and no nothing. Until a young man named Steven saw her lying down in an alley, just waiting to die. Steven was the type of person who always put people before him. No matter who they were. Steven got Sariayah back on her feet. Sariayah started school, and he got her a professional job. He didn't want anything in return, just a promise from Sariayah saying that she will stay on her feet, no matter what. And she kept her promise.

After 8, Steven and Sariayah stayed good friends. Sariayah never looked back into her past. But she also didn't forget where she came from. Sariayah graduated from high school and went to college. In Sariayahs soft more year in college, she found out devastating news about her best friend Steven. Steven was shot in the chest, twice. She was broken. It brought back bad memories of when her father got shot. Steven was the only one in her life. She wanted to give up on everything but she remembered her promise to him. Sariayah stayed in college later she graduated and became a national speaker. Sariayah wanted to help everybody get through things that they felt they couldn't. She talked to everyone around the world. She taught everyone that just because you went through hell doesn't give you the excuse to make the bad choices and actions you are doing now.

I personally think Sariayah is a really strong and brave person after going through so much and now she is putting people before her. Sariayah also has self-motivation. She motivates herself to get up and help other people regardless of anything. It doesn't matter who you are, and whether you want her help or not, she is still going to help you. She has a lot of potential. She will not give up on you and that's what inspires me to be a better person and to do well in life.

Sariayah has helped many people including me. My whole life I always thought people didn't understand me. So I just wanted to give up on life. I wanted to quit school and everything. I didn't care if I lived with my mother until I was 40. I just didn't want to interact with the world. But Sariayah talked me out of it. She explained to me the cycle of life. She told me no matter how bad the situation is, don't give up. All I did was cry, because she is such a strong women after everything she been through. I felt so stupid for wanting to give up on something so little, and she went through something so big, and she still didn't give up. She stopped me from making the biggest mistake of my life. She truly cares for me, I can tell. I can honestly say she is my best friend. She was there for me, when I needed somebody the most. And she still is here for me. She is a hero. She is my hero.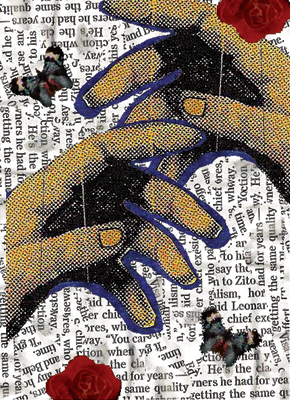 © Christine S., Arlington, VA