15 Random Facts About my Best Friend
October 30, 2010
15 Random Facts about my Best Friend

all this was said over one of our msn conversations..

Harlie says:
ugh im trying to think of 15 random facts about myself youd think it be easy cuz i know me?? well its not lol ughhh
Mandy says:
#1) you would wear purple every day of your life and not get sick of it
#2)you would move to France to cook and not forget to bring your cats with you
#3) If I became famous you would willingly become my personal assistant/ MVF ( most valuable friend) even though you already are./ my #1 fan and body guard. If i asked you too
#4 you would wear skater shoes to your own wedding
-Harlie- says:
LMAO you come up with the most truthful and best answers
Mandy says:
#5 you would kill your sister's boyfriend and my roomates provided you not go to jail. ( heck youd do it any way)
#6 You would cook bacon all day and eat it. Justifying yourself by saying that it jumped out of the pan
-Harlie- says:
LOL so true aha
Mandy says:
#7 you would wear the shirt i bought you 4 your birthday underneath the Maid of honors dress i will make you wear on my wedding day
-Harlie- says:
what shit??
omg i mean shirt!!
lol sorry
typo

Mandy says:
not my typo
-Harlie- says:
LOL

Mandy says:
#8 if Ashton Kutcher asked you on a date you could convince him to marry you by the end of the night
#9 If the show "supernatural" were real you would kill yourself just so that your soul could haunt "Mr. Hottie"
-Harlie- says:
LOL so veryyyyyyy true!!!
Mandy says:
#10 if there was someone who came between us you would say it was "Whinnie the Pooh Bear"
-Harlie- says:
LOL
Mandy says:
#11 you would eat blue berries all day even if it turned you into one
-Harlie- says:
LOL YES!!!!
Mandy says:
#12 your pumpkin pie is so great that if the Queen of England said it sucked you would shove it in her face
-Harlie- says:
LOL i probs would to aha
Mandy says:
#13 If a pineapple were the only thing to live in you would do it and say " If sponge Bob can then so can I"
-Harlie- says:
Sponge Bob Forever LOLOLOLOL!!!!!
Mandy says:
#14 If you had your full G license and diplomatic immunity ( which mean you are not allowed to get arrested in any country other than your own ) you would seal that guys bumble bee camero and kidnap Shia Labouf
-Harlie- says:
LOL I SO WOULD

Mandy says:
#15 If i died you would move in to suck a deep depression that you would die of heart failure. Cause you know that you would never be able to find another friend Quite like me. You would build a house near my grave where you could visit me every day, and talk.
-Harlie- says:
LOL yea probs
Mandy says:
And you wouldn't listen to what anyone said about me not listening cause you know that i would be in a place where I would able to hear every word you say
-Harlie- says:
wooooh!!! theyd just think i was crazy
Mandy says:
well there's 15 random fact about you...

How well do you know your best friend? I challenge you to think of 15 random facts about your best friend, and then tell them or email them your list. Just see what happens .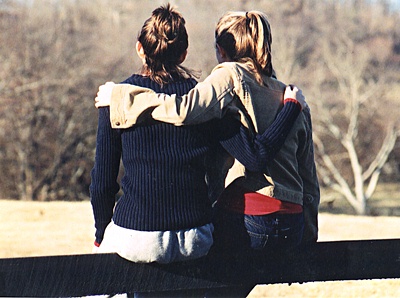 © Jaime M., Wichita Falls, TX