Jackie Woodburne ~ My Inspiration
January 5, 2010
Most people have someone they aspire to, whiter it is a pop star or sports person, an actor or TV personality. Although for me it's an actress, the extraordinarily talented Jackie Woodburne.

Like me, she also was of Northern Irish origin, however she immigrated with her family to Australia when she was just three years old. But things weren't as easy as the family thought it would be when they arrived. Her parents thought that on in Oz they would be able to keep up the jobs they had in Ireland, although due to various local rules and regulations over there this was not possible. And Jackie had problems of her own, another trait of which she shares with me.

At school she didn't yet have the self-confidence to become an actress, which is what she aspired to do. In one interview she quotes, "Right through my teenage years in Melbourne, I had this secret yearning to act, but I was always too shy to join school drama class. I wanted to get up there on stage, but but I was too self-conscience to try. I thought it would be an unrealised dream." But after leaving school and taking a year out to travel aged 19, she returned to Australia with the long sought after confidence she needed. "Having to fend for myself gave my confidence a boost," she said. "When I got back home I said to myself. 'Right girl, put your money where your mouth is and see what you can do.'" And she did. When she arrived back from her travels, she realised she had missed the deadline to attend the National Theatre Drama School in Melbourne, but determined to achieve her life-long ambition, Jackie begged the Dean to give her a chance and to her surprise she did. Then graduating three years later she managed to walk straight into the role of Josie Von Flugel in television mini-series Outbreak Of Love.

Since then Jackie has gone on to star in many other television programmes, theatrical productions and even films, including The Flying Doctors, A Country Practice, The Young Doctors and Prisoner: Cell block H. However she is probably most well known for her portrayal of long standing character Susan Kennedy in Aussie soap Neighbours. Who to this day after 15 years on-screen still remains a firm favourite amongst viewers of the show.

In fact it was Jackie's outstanding performance in Neighbours that first drew me to her as a person. I thought she was a fabulous actress and wanted to find out ore about her background.

Why do I see her as an inspiration? Well for a start she is an amazing actress, to have a fraction of the talent she has would be more than sufficient. and from what I have read, seen and heard, she is a totally genuinely lovely person and to find someone to fit that description at times can be rare. You only need to hear what the people she works with have to say about her to back this evidence up. The younger cast members look up to her as a mother figure and a mentor. Kym Valentine who plays her on-screen daughter describes her as her 'second mum'. She also quotes, "No drama school could teach me what I have learnt from Jackie". Former colleagues have also described her as "funny, kind and wonderful". I could go on listing various compliments to Jackie's nature and talent, but the previous examples are sufficient to showing that many others look up to her with admiration and respect.

Another thing I admire is that she respects her fans and takes time out when she can to reply to fan mail or take part in interviews as well as occasionally meeting and greeting fans on the 'Official Neighbours Tour' at the set in Melbourne. One example of Jackie's kindness to her loyal fans is the following message she sent to them after her character on Neighbours came number one in a recent poll of the top 50 characters on the show ever. She stated the following in her reply, "To be acknowledged by the viewers and fans in this way is so gratifying and I appreciate the encouragement and support more than I can say!" Signing at the end, "With love and gratitude, Jackie".

On top of all of that, Jackie also makes time to attend various charity functions and meet the recipients of their good work. She even hosted her own event for Breast Cancer a couple of years back. Some of the causes she has helped over the years include the Make A Wish Foundation, the MS Society, BCIA (Breast Cancer Institute Australia), Brainlink and SANE Australia. However, the MS Society is probably the charity she's most likely associated with for supporting, due to vast media coverage.

It all came about when Jackie learnt that her on-screen character Susan Kennedy was to be diagnosed with the illness in an up-coming storyline for the show. And to make sure that the plot was portrayed true to life, the show teamed up with associates from the MS Society. Jackie herself also made sure she carried out the story with real authenticity by both committing to though research and meeting people that had been previously diagnosed with the illness. Jackie stated the following in a relating article. "The MS storyline was presented to me in advance so I could start looking into it. With a storyline about an illness such as MS, you really want to make it as truthful as you possibly can, and be respectful to the incredibly brave people who have it in real life." This dedication and empathy alone shows that Jackie truly cares about the presentation and portrayal of her work.

Another reason I admire her is that she doesn't absorb in the 'celebrity' status that's often automatically attached if you're a well-known TV personality such as a soap star. She likes to keep her work separate from her private life and quite rightly so. Too many 'stars' mix the two up and come out worse for doing so.

Ultimately I hope one day I will have the opportunity to meet the wonderful Jackie in person, but until then I will have to contend with watching her excellent acting on TV and contacting her via fan mail.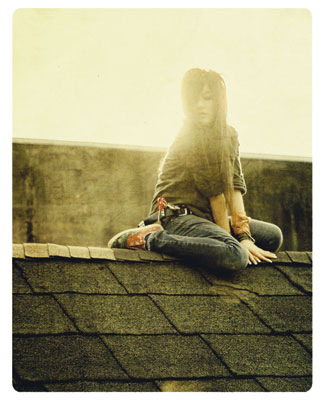 © Hailey J., Lake Oswego, OR