Madeleine L'Engle
October 2, 2009
"I wanted to know why there were wars, why people hurt each other, why we couldn't get along together, and what made people tick. That's why I started to write stories." Over sixty books—including children's books, poetry, adult fiction, memoirs, biblical commentary, and essays—have been published by the award-winning author who spoke these words. At the age of five, this author wrote her first story. Who could have guessed that years later, her un-publishable, later best-selling book, "A Wrinkle In Time," would have sold over six million copies and her name would be known world-wide? In the beginning, Madeleine L'Engle merely wanted to write. Now, her name is matched with an unmistakable identity that is of a practiced writer preceded by numerous other accomplishments and adventures.

"Do what you ought to do, even if it's nontraditional. Be open. Be ready to change." L'Engle truly lived up to her words as a child when she preferred writing stories over schoolwork, thereby receiving poor grades. This only child was born to Charles Wadsworth Camp, a World War I veteran who had defective lungs from mustard gas poisoning during the war, and Madeleine Hall Barnett Camp, a pianist, on the snowy night of November 29th, 1918, in New York City. When she was twelve years old, L'Engle moved to the French Alps with her parents to help her father's insufficient lungs, where she attended an English boarding school that she described as "dreadful". At the age of fourteen, she returned to America where she attended another boarding school, Ashley Hall in Charleston, South Carolina, which she contrarily loved. Unfortunately, Mr. Camp died when L'Engle was only seventeen. As a fatherless teen, L'Engle attended Smith College in Northampton, Massachusetts, and studied English, graduating with honors. Afterwards, she moved to Greenwich Village in New York and, even though she wanted to write, went into theater "to pay the bills." While performing in Chekhov's The Cherry Orchard as an understudy, L'Engle met her future husband, actor Hugh Franklin.

"If we're given a talent, you have to serve it. You don't own it. You don't control it. You don't manipulate it. You can do that and be a bestseller if you want to. But ultimately it is a gift that is freely given and you have to serve your gift." L'Engle's talent was obviously writing. "A Small Rain" and "Ilsa," her first two books, were published before she met Hugh. The couple was married and moved to Connecticut to raise a family and run a dairy farm. Josephine, Bion, and Maria, the couple's three children, were brought up in an old farm house in northwestern Connecticut called "Crosswicks." Maria was adopted at the age of seven after her parents, who were good friends with L'Engle and Hugh, died within a year of each other. To make a living, Hugh and L'Engle revived a rundown general store where they served a variety of interesting people, including gypsies, carnival men, farmers, factory workers, artists, and philosophers, inspiring L'Engle's book, "Meet the Austins." Finally, after living for a decade in Connecticut, L'Engle and her family moved back to New York.

"Violence never redeems. And what we do does make a difference!" L'Engle has certainly made a difference, for she has done so much. When they returned to New York, Hugh took up acting again and L'Engle taught for six years at St. Hilda and St. Hugh's Anglican schools. Hugh Franklin became known as Dr. Charles Tyler in the television series All My Children. In 1965, L'Engle began working at the Episcopal Cathedral of St. John the Divine library as a volunteer librarian and also published two books the same year: "The Arm of the Starfish" and "Camilla." That library where she worked is "described and noted in detail in various L'Engle novels." Traveling, reading, playing the piano, and cooking were among L'Engle's hobbies.
"If I don't [speak from my heart], then I'm not being true," Madeleine L'Engle once said. L'Engle, a practicing Episcopalian who attended daily Eucharist and felt "called to daily prayer, Scripture, and devotion", was never afraid of speaking from her heart. In fact, she says that "writing is a form of contemplative prayer." However, L'Engle never characterized herself as a Christian writer, but as a "writer who is struggling to be Christian." Some genres she wrote about include theology, fantasy, and science which "reflect themes such as scientific irresponsibility, the dangers of unthinking conformity, and the saving power of love." Many of L'Engle's stories involved quantum mechanics or astrophysics, despite the fact that L'Engle claimed she had no scientific background.
"Have courage and joy. Sometimes our moments of greatest joy come at [the] times of greatest courage." Certainly, Madeleine L'Engle, the speaker of this quote, had massive amounts of courage to write about her Christian faith in her books. "A Wrinkle In Time," one of her most famous books, has been criticized many times because it contains "witchcraft", "crystal balls" and religious themes. The book was written between 1959 and 1960, but wasn't published till 1962. According to L'Engle, "Every major publisher turned it down." "Wrinkle" faced twenty-six rejections and L'Engle finally gave up. However, during a Christmas tea party for her mother, L'Engle met John Farrar of Farrar, Straus & Giroux, the publishing company that finally published "Wrinkle" in 1962. Now, it has received a Newbery Medal, the Sequoyah Book Award, the Lewis Carroll Shelf Award, and was runner-up for the Hans Christian Andersen Award.
"Be brave! Have courage! Don't fear!" Madeleine L'Engle's words of wisdom reflect the brilliant, daring, courageous, and fearless woman she was. Sadly, this incredible author passed away on September 7, 2007, at the age of eighty-eight. Hugh died of cancer on September 26, 1986; two years later, "Two-Part Invention," L'Engle's book about the joys and struggles during their forty-year marriage, was published. L'Engle accomplished so much in her long life; she lived to see the birth of her first great-grandchild in 1999 (named Konstantinos John Voiklis) and published over sixty books for people of all ages to enjoy all over the globe. Madeleine L'Engle can definitely be called one of the world's most gifted authors whose stories will be remembered forever in the minds and hearts of children and adults, young and old.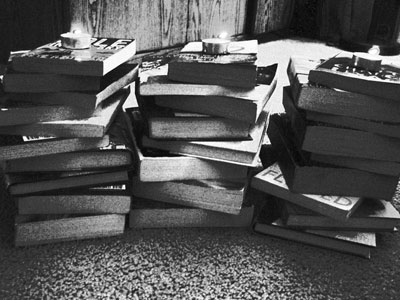 © Alexis R., Clarkdale, AZ