Barbara Raines
MAG
January 5, 2018
The only writing experience I possessed before Ms. Raines's English class was my 6th grade Hunger Games fanfiction and not-quite-but-quite-plagiarized stories of my favorite books. I had an obvious passion for language, words bleeding on a page, innovation of imagination – but the skills were lackluster. It was as if my writing was the lead part of a pencil wearing off: not sharp.

However, the moment I stepped into Ms. Raines's class on the first day as an anxious 8th grader, I had a certain bubble of excitement brewing in my stomach. Although many prior students complained that she was strict, I quickly found out it was a careless little rumor. Ms. Raines showed us a PowerPoint presentation on her life, and I was starry-eyed over how passionate she was. I was wrapped around her finger; I wanted to learn from her.

Needless to say, Ms. Raines was the first teacher from whom I yearned for approval. I spent more time perfecting her assignments than in any other class; the thought of her scanning my personal writing was nerve wracking, but I was eager. On my first assignment I received an 85%; points had been taken off because I didn't follow the format correctly. If it had been any other teacher, I most likely would've exploded in a fit of rage. However my desire to do better for her rushed in my veins. She pushed me to the edge while teaching me the best tips for writing formal essays. Thy are engraved in my heart.

Not only did Ms. Raines improve my writing, but she also provided me with life long lessons. Ms. Raines has a golden heart. She cares about the little things nobody pays much attention to: grading essays with precision, taking us through a month-long intensive writing camp, being a little too strict, praising our different styles, using humor in her lessons, and sharing bits of philosophy. I have nothing but respect for her Ms. Raines as an educator.

Now that I am in 10th grade, Ms. Raines is currently teaching my little brother. My mom e-mailed her one day when my brother was absent and needed his makeup work. My mom also let her know that I missed her. Ms. Raines provided my mother with the most heartwarming response (which invoked a nostalgic cry session from me). Ms. Raines replied, "She certainly has talent in the craft of writing, so I'm thrilled to hear she is happily honing her skill. Please give her a hug because the fondness is mutual. She is a fine person."

I promised myself that if my book ever became published, the traditional dedication page at the front of the story would be reserved for the first teacher to introduce me to true writing. Ms. Raines has built my writing foundation, and I never intend to forget it. She will forever be the reason behind my love for words, sentences, and the inner workings of English flying across the galaxy.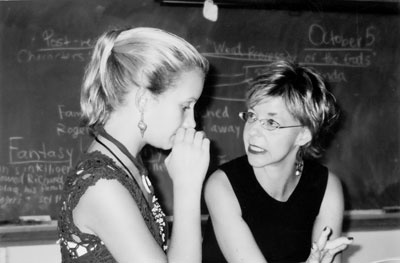 © Olivia L., Pompton Plains, NJ