Educator Essay
March 19, 2015
School has never been something that comes easily to me--and when it doesn't come easily, I tend to not try. I didn't learn how to read until I was in third grade and I was always sent to cold, prison-like rooms where I was labeled as "special." I had a hard time talking and making sense out of the things I wanted to say, so eventually I just stopped talking. All of my teachers avoided me and silently refused to give me help. They excused me as a student and labeled me as an outcast.
Of course, I wasn't excited for high school, either. I conjured up some sort of crazy situation in my head that made me dread walking through the high school doors. That's when I walked into my social studies room. A tall, medium-build man stood in the front of the room stroking his brightly colored tie. He looked at the class, opened his mouth and shouted, "HELLO!" Then he waited and said, "I'm Mr. Reichle, your teacher. If we are going to get along, I advise you not to have the personality of a door knob. You're in high school. Don't sit in the corner--make friends. It makes your life much easier." He talked about his expectations for the class, throwing in minor jokes that made everyone chuckle. He reminded me of a youthful child hidden inside a mid-aged teacher's body. He finished his spheal in a sentence that changed the way I look at school. He said, "I am your teacher. I teach you. If you do not get something--I am here to help you, but if you do not advocate for yourself and ask me for help I will assume you are satisfied not doing well in my class. But I want you all to succeed."
For the next two years, I had Mr. Reichle as a teacher and never before have I enjoyed school so much. Mr. Reichle was able to boost my confidence, allowing me to do better in all of my classes. During my sophomore year, I presented in front of the school board sharing involving special education in my district. I was also able to present to a handful of middle schools about bullying and speak at assemblies in front of hundreds of people. He spent countless hours talking to me about how I could improve as he spewed out ideas that made his face light up like a little kid. He pushed me to excel and believed in me even when I didn't believe in myself. He called my parents to brag about how far I came and how I had to take his advanced placement course.  To this day, Mr. Reichle invites me to speak at his open house and brings up my name to guidance counselors as a student who has the capability to excel.
Never before has a teacher shown so much passion for my education. I have found that if a teacher shows compassion towards you, you will find compassion to do the best that you can do.
With the help of my cheerleader, Mr. Reichle, I have accomplished what seemed to be unthinkable. I am currently on honor roll and have a 3.5 GPA and continue to give the credit to the teacher that turned my view of education sideways.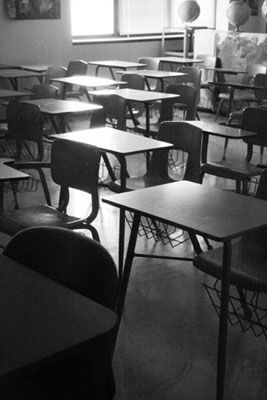 © Sean C., Princeton, IL