A Tribute
October 9, 2014
The educator of the year may go to one teacher in particular. It may go to an English teacher who made you fall in love with writing. It may be awarded to a math teacher who helped you get over your hatred of the subject. It could be any teacher. However, there is one educator that everyone has, but no one ever really notices how they educate us.
This is a tribute to moms.
How often have you gotten home from school and worked all afternoon on your homework? Then, you eat a delicious dinner and spend the rest of the evening doing whatever. If you're homeschooled like me, you appreciate your mom a little more for being an educator, but you still might look over the other ways she teaches you.
For example, as a child, you didn't simply know how to walk, talk, get dressed, use a toilet, or feed yourself right from the start. You had to learn these things somewhere. Most likely, your mom taught you how to walk, talk, eat, change clothes, etc. She taught you manners, for sure, and put you in time-out when you needed to be punished.
Moms teach us in a more subtle way as well. Who held you close when you went through an emotionally challenging time? Who was your support team when you practiced sports with your dad as a little kid? Who always had time for you, even if that meant forsaking her own desires? Who would do that for you but one person, who has been there for you your entire life? Mom, of course.
If you're a homeschooler, this is taken to the extreme. She literally teaches every subject. She thinks nothing of waking you up by singing or tickling you when you have places to be. She deals with your frustration, anger, and complete lack of skill at one subject or another. She lovingly checks your work, pointing out any mistakes in an encouraging yet serious way. She is far more than a mom. She is more than a teacher. She is yours for the rest of your life.
I'm homeschooled. I wanted to let everyone know that moms teach us, even if they don't teach a certain subject. I wanted people to know how awesome, funny, responsible, supportive, and loving my mom is. Then I figured all moms are like that, so I went and included everyone's mom. Next time your mom kisses you, be it before bed, when you're leaving for school, whatever, kiss her back and say thanks for being everything she is.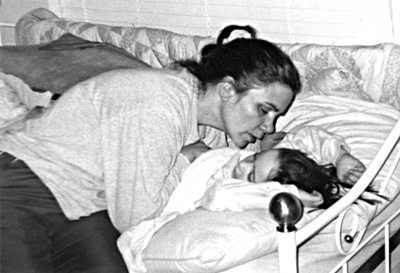 © Jessica T., Highland Village, TX