David Byers - Drafting and Design Teacher
January 29, 2014
I sat down and noticed that I don't know anyone. Every seat was filled and I had lacked the confidence to start a conversation with the stranger next to me. It was my first day of high school and I had no idea what i was getting myself into when i signed up for drafting and design as my career pathway.
Mr. Byers is a great teacher and an overall amazing person. I had the honor of being in his class for my 9th and 10th grade year. Everyone who was in or had been in one of his classes had nothing to say but great things about him. He helped students with their work if they were having difficulties and would often take time out of his own life to stay after school with them. My friend Lauren and I would often stay after school and work on our projects together with the extra help from Mr. Byers. One of my favorite things about Mr. Byers is that he always had a story about something whether it be about his high school days on the "dickerson" track team or the time a kid broke his ribs. He always had something to say and it made him more personable to his students.
Mr. Byers' class was hard and fun. Strange combination, i know. I will admit that i struggled in his class, I was not the best but I enjoyed it. Sometimes I would get stuck on a minor detail that would make me start my work all over again and get frustrated, but Mr. Byers would always be there to help walk through the process and tell us not to get too frustrated. One thing i will always remember about his class is listening to christmas music while building our models. Building models was long and tedious and we were not allowed to have personal electronics due to school rule. It was a nice change from the silence of everyone concentrating with a few jokes here and there.
Throughout 9th grade I enjoyed being in Mr.Byers class, but in 10th grade i got to see a different side of him. I was going through some rather tough personal times and i felt like the whole school was against me. There were very few teachers that i felt i could trust and Mr. Byers was one of them. When i was in an out of school program Mr. Byers contacted my mom to check in on me. When my mom told me about what he had said i was very happy. I finally had someone who was there for me and it gave me hope. He encouraged me to get back on my feet and be the best i can. He would tell me that he would be there for me and that he knew i would pull through it. His little words meant so much to me and i can not thank him enough for how he has helped me. At the end of my 10th grade year i was informed that i would no longer be allowed to attend that high school and was heart broken. I would only a few teachers and Mr. Byers was one of them.
During my current year of 11th grade i have thought about Mr. Byers a lot. I would contemplate going to visit him after school with my friend Lauren and wondered what it would be like if i was still there. I have seen Mr. Byers only once since starting my new school. One day while i was walking to lunch i spotted him in the hallway and yelled "Byers!". I was excited to see him and was almost brought to tears as all of my memories from my old school flooded back to me. We could only talk for a few min and he was there for a meeting, but that was all i needed. I Would like to nominate Mr. Byers for educator of the year for his great ability to teach and for helping to make me a better person.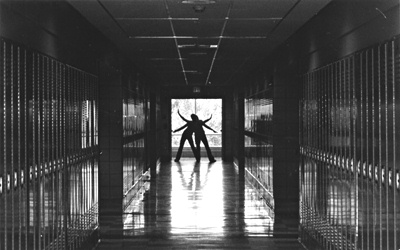 © Sheera G., Marblehead, MA