That One Teacher
December 2, 2010
She came in on her first day back to class with a wig on her head and a smile on her face, "air hugging" us because the doctors had warned her about the dangers that germs could pose to her. Mrs. Gardner had just gone through being diagnosed with Leukemia and the harrowing process that is chemotherapy, but here she was, back in the classroom, like she never missed a beat. She is the heart and soul of Heritage High School's A.V.I.D. program, and with her gone, the classes of seniors that she instructed felt a little lost, to say the least. The reunion was a happy but short-lived thing. Mrs. Gardner had to return to the hospital, but she promised to come back whenever the doctor said she was able. Her sister, Ms. Murton, had been substitute teaching for her while she fought her battles in the hospital, but Mrs. Gardner still took our emails (and sent some of her own to the class as a whole), received visits from students, made lesson plans, and talked on the phone with her pupils.

To really understand the dynamic between us students and Mrs. Gardner, you need a little bit of a history lesson. She and her husband came to teach at Heritage 4 years ago, when our school first opened its doors. They came from Perris High School, and had already been known for their dedication to their students. Countless stories of the Gardner's generosity and caring had been shared all around the new campus, and every word was true. They had helped students financially, gone to dinner with parents who were unwilling to let their children attend college, and had taken personal interests in students who struggled in one way or another. Needless to say, this couple had changed more than one life while working with the A.V.I.D. program. Mr. Gardner was quick to give away a buck, accept a cookie (we were sworn to secrecy, as Mrs. Gardner was not to know of her husband secretly satisfying his sweet tooth), tell a funny story, and was always there to talk on a bad day. For many, he was a father-figure. Mrs. Gardner was quick to laugh, stern when necessary, and always had an answer for questions and dilemmas of the acutest kind. They were truly a "dynamic duo". Mr. Gardner retired last year, but his wife stayed at Heritage.

Last summer, after the first graduation Heritage ever had, Mrs. Gardner shared the news of her condition with the new graduates, and eventually, the news trickled down to her new seniors. But since then, she has remained dedicated to every one of us as we seek higher education. Whether it is her commitment to us, her amazing strength, or both, she has always found a way to be there for her kids. Sure, everyone has had that one teacher, the one who stayed after hours to tutor you or helped you graduate. But, Mrs. Gardner has shown so much compassion to her students, no matter the state of her health, that many Heritage High School Patriots will tell you that that person, that one teacher, is Mrs. Gardner.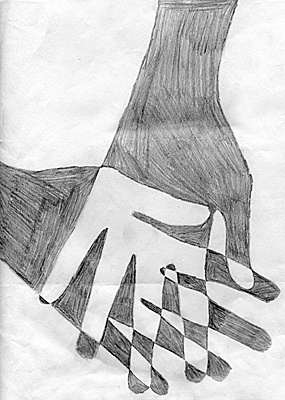 © Warlito B., Tamuning, GU