Educator
March 10, 2020

Middle school was the home I wished for. I grew up in a complicated situation compared to my classmates. Most of my classmates had compassionate families and would often have friends over, but not me. Now that I reflect on this, I ask myself why? Why couldn't I ever have friends over? Was this normal or was I the only one who seemed alone? That's when Mrs. Thurin, my guidance counselor at Lake Country Middle School, shifted my worries with just one smile.

Mrs. Thurin helped shelter me and tried to hold on to my innocence. To me, Mrs. Thurin was like a second Mom. She was the Mom that kept her eyes and ears open as she slept at night. She was an educator who changed my life, and one that I will never forget.

From the moment I walked into her office, I immediately felt comfortable. She greeted me with a tender smile, soothing voice, and an indescribable passion. Mrs. Thurin understood to most of my classmates I may have been abnormal, (I wore decent 2nd hand clothing, I was always happy and smiley, and super helpful to others) but they never knew what I hid beneath my layers of skin.

I sat in Mr. Thurin's classroom more times than I could count. She talked to me, helping me stay positive and putting life in perspective. I think deep down she realized I experienced too much for my age and how I wanted to forget all about it. Slowly but steadily Mrs. Thruin taught me how to handle my problems. She taught me how to stay focused and just stay positive. Vividly enough I recall when she once said this to me, "for every bad thing there is a good, all you have to do is find it". I still use those words every day in my life.

Mrs. Thurin, thank you for helping me through the hardships I had to endure. I have been through so much. With every corner I crossed, you helped me by looking out for me. I appreciate everything you have ever done for me. Your actions as my guidance counselor and teacher helped save that little kid you once knew.

I have grown up and am facing the world head-on. It's all thanks to you. I think to myself what would I ever do If I had never been so cared for by Mrs. Thurin. What would I have become if I had never met her? Where would I be without your words of wisdom. Being in high school is stressful but I know that no matter what. You will always have a special place in my heart and in my mind. Mrs. Thurin, keep up the outstanding work you do for students. Someday it will be our turn to take care of you. I would like to nominate you for Educator of the Year because your compassion and dedication speak more words than, I could ever write about you.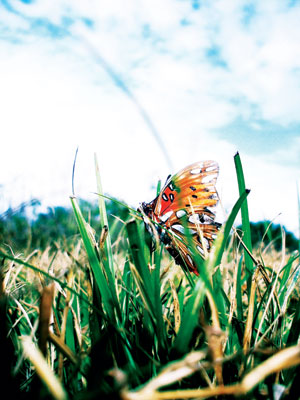 © Ashley B., North Port, FL